Home
Details

Written by

Super User

Category: News
Hits: 88
It is a very sad duty to announce that the President of the VKI Board of Directors, Professor Jean-Pierre Contzen, suddenly passed away on Tuesday, October 27, in Sint-Petersburg while on active duty as the Chairman of the NIERSC foundation.
Professor Jean-Pierre Contzen studied engineering and nuclear physics at the Université Libre de Bruxelles before working on reactor safety and advanced conversion systems at the Nuclear Research Centre of Mol.
He moved in 1964 to the European Launcher Development Organisation ELDO where he worked on future space vehicles' concepts and joined in 1969 the European Space Organisation ESRO where he developed the programmes for satellite applications. He started in 1974 a 25 years' association with the European Commission occupying successively the positions of Director of Programmes of the Joint Research Centre (JRC), Director for Science & Technology Policy, Director General of the JRC and Special Adviser of the Commissioner in charge of External Relations. During this period, he was also member of the Standing Committee of START (Global Change System for Analysis, Research and Training) (1992-1997) and member of the Management Board of the European Environmental Agency (1993-1997). He became later Special Adviser to the Minister of Science & Technology of Portugal.
Details

Written by

Super User

Category: News
Hits: 78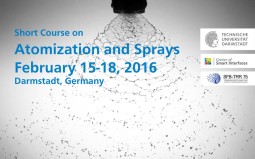 Our colleagues at the Center of Smart Interfaces (CSI), at the TU Darmstadt in Germany are organizing a short course of atomization and sprays from the 15th to the 18th February  2016.
This course is directed towards practicing engineers and researchers involved in R&D and the application of spray systems. For those with little previous background, the course begins with fundamentals of atomization and proceeds through theoretical, experimental, numerical and application topics.
The course website at www.csi.tu-darmstadt.de/kasi provides all useful info including the registration procedure, below the course announcement.
Details

Written by

Super User

Category: News
Hits: 86
Our colleagues at the Commitee on Space Research (COSPAR) are organizing their 41st Assembly and to be held from 30 July 2016 to 7 August 2016, at the Istanbul Congress Center (ICC) in Turkey.
The Abstract Submission Deadline is the 12 February 2016, at the Scientific Program/Abstract Submission webiste hosted at the following address:
https://www.cospar-assembly.org
The early registration deadline is the 31 May 2016. You can register at the website of the local organizers at the following address:
http://cospar2016.tubitak.gov.tr