Exhibition floor plan

The floor plan of Politecnico di Milano offers the opportunity to set up various booths in an attractive way to catch the interest to the attendees. Most of the booths are close to the lunch break, and coffee breaks, and not far away from the session rooms.
Find all our partnership opportunities here.
This exhibition area is truly a real chance for your company to emphasize and to exhibit its expertise, its products and its services toward a targeted group of scientists, students and professionals. Please feel free to visit our exhibitor list here below.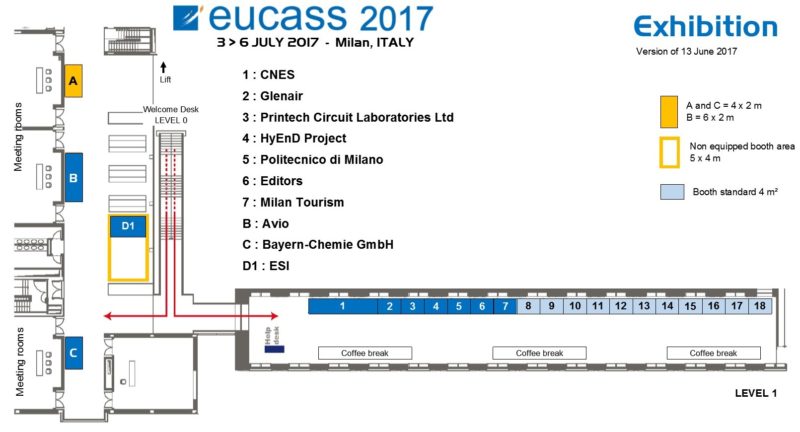 Exhibition opening hours

| | |
| --- | --- |
| Monday July 3rd | 09:00 - 20:00 |
| Tuesday July 4th | 08:30 - 18:00 |
| Wednesday July 5th | 08:30 - 18:00 |
| Thursday July 6th | 08:30 - 15:00 |
Exhibitor list

---
AVIO

Booth B

Colleferro (Roma) – Italy | rossella.conte@avio.com | www.avio.com
Avio is a leading company in space rocket and space propulsion. The company is based in Colleferro, Rome, Italy. The expertise and know-how acquired in over 100 years in explosives and more than 50 in space activities allow Avio to compete with the top players in the Space Launch Systems definition, manufacturing and integration as well as in the segment of solid, liquid and cryogenic space propulsion.
Today, Avio plays a strategic role in the global space industry through Vega, a launcher of satellites in the range 1.500kg – 2,000kg in LEO produced by ELV (70% Avio, 30% ASI), Ariane 5, the biggest European launcher and is working on the new launchers Vega C and Ariane 6.
Avio has operations companies at the European Space Centre in French Guiana since 1984: Regulus (60 % Avio, 40% ASL) for solid propellant manufacturing for Ariane and Vega's first-stage engines, Europropulsion (50 % Avio, 50% ASL), in charge of booster assembly and ELV for integration of the entire Vega launcher.
---
Bayern-Chemie GmbH – MDBA

Booth C

Bayern-Chemie has over 60 years of experience in developing, producing, qualifying and upgrading rocket motors, gas generators and pyrotechnic actuators. Bayern-Chemie is a 100% subsidiary of MBDA. Products and services offered :
Defence :
· Variable flow ducted ramjet rocket motor
· High-performance bi-pulse rocket propulsion systems for highly agile homing
· Variable-speed and insensitive gel-fuelled rocket propulsion
· Solid-fuel gas generators for a variety of applications
Space :
· Components for single stage to orbit propulsion systems
· Highly controllable gelled propellant rocket motors for various applications
· Pyrotechnic separation devices
· Propulsion systems for de-orbiting of space vehicles
Aviation :
· Gas generators for provisioning emergency and rescue systems
· Pyrotechnic actuators for safety devices
Services :
· Engineering
· Laboratory and testing facilities and expertise
---
CNES

Booth 1

Paris – France | contact@cnes.fr | www.cnes.fr
Founded in 1961, the Centre National d'Etudes Spatiales (CNES) is the government agency responsible for shaping and implementing France's space policy in Europe.
Its task is to invent the space systems of the future, bring space technologies to maturity and guarantee France's independent access to space. CNES is a pivotal player in Europe's space programme, and a major source of initiatives and proposals that aim to maintain France and Europe's competitive edge. It conceives and executes space programmes with its partners in the scientific community and industry, and is closely involved in many international cooperation programmes—the key to any far-reaching space policy.
The agency's more-than 2,400-strong workforce constitutes an exceptional pool of talent, with some 1,800 engineers and executives, 35% of whom are women. Through its ability to innovate and its forward-looking vision, CNES is helping to foster new technologies that will benefit society as a whole, focusing on: Ariane, Sciences, Observation, Telecommunications & Defence.
---
HyEnD Project – DLR

Booth 4

Köln – Germany | kobald@irs.uni-stuttgart.de | www.hybrid-engine-development.de
HyEnD (Hybrid Engine Development) is a student project located the Institute of Space Systems, Stuttgart University in Germany. In November 2016, they launched their Hybrid sounding rocket "HEROS 3" from ESRANGE Space Center to an altitude of 32.3 km, a new record for student projects. The project was funded by the DLR Space Administration and a cooperation exists with the DLR Institute of Space Propulsion, Lampoldshausen.
---
ESI

Booth D1

Bologna – Italy | christina.theuerkauf@esi-group.com | www.esi-group.com
ESI Group is a leading innovator in Virtual Prototyping software and services. Specialist in material physics, ESI has developed a unique proficiency in helping industrial manufacturers replace physical prototypes by virtually replicating the fabrication, assembly and testing of products in different environments. Today, coupled with Virtual Reality, animated by systems models, and benefiting from data analytics, Virtual Prototyping becomes immersive and interactive: ESI's clients can bring their products to life, ensuring reliable performance, serviceability and maintainability. Benefiting world-leading OEM's and innovative companies alike, ESI empowers engineers and decision-makers with the guarantee that their products will pass certification tests, before any physical prototype is built, and that they will deliver competitive products to their markets. ESI's Virtual Prototyping solutions address the emerging need for products to be smart and autonomous and support industrial manufacturers in their digital transformation. Today, ESI's customer base spans nearly every industry sector. The company employs about 1100 high-level specialists worldwide to address the needs of customers in more than 40 countries.
---
GLENAIR

Booth 2

Granarolo Dell'Emilia (BO) – Italy | elamalfa@glenair.it | www.glenair.com
Glenair has been providing Space-Grade Interconnect Solutions since the earliest manned space flights. We understand the highly specialized mechanical, electrical and optical performance requirements for data, video, and high-speed communications in exo-atmospheric vehicles. Space-rated interconnect systems require specialized materials and processing and precise and reliable mating interfaces. Size and weight reduction are additional key requirements. All are Glenair strengths.
Glenair interconnect technology has seen broad acceptance and application on both NASA and ESA space missions. Glenair Micro-D and nano-miniature connectors, as well as numerous circular connector series, opto-electronic technologies, HDRMs, and backshell designs have been specified on ESA missions ranging from launch vehicles to satellites. The Glenair Space product portfolio is supported by our own independently accredited test laboratory. Certified to ISO/IEC 17025:2005, Glenair's test laboratory is capable of running all industry standard qualification programs for its space flight customers—from outgassing to full ESA and NASA qualification programs.
Dr Ron Logan from Glenair will present an oral paper "MULTI-GIGABIT PHOTONIC TRANSCEIVERS FOR SPACEFIBRE DATA NETWORKS" on Tuesday 4th July
---
Politenico di Milano

Booth 5

Milano – Italy | luciano.galfetti@polimi.i | www.polimi.it
Politecnico di Milano is one of the most outstanding universities in the world, ranked 24th on a global scale, 7th in Europe, and 1st in Italy among technical universities, according to QS World University Ranking – Engineering & Technology 2017. Founded in 1863, Polimi is the largest school of Architecture, Design and Engineering in Italy, with 3 main campuses located in Milan, and 5 campuses based around the Lombardy region, one of the most industrialized areas of Europe.
Department of Aerospace Science and Technology
The Department of Aerospace Science and Technology of Politecnico di Milano (DAER) is the only University Department in Italy entirely dedicated to the aerospace studies. It was officially established in its present status in January 2013, as a result of the latest University reform in Italy. It inherits the long and successful tradition in aeronautics and aerospace that Politecnico di Milano has nurtured since the early days of aviation. Three elements lie behind the foundation of the Department of Aerospace Science and Technology (DAER): the worldwide importance of the aerospace engineering field, a keen awareness of the role of a technical University in this field and a solid background in aerospace engineering at Politecnico di Milano.
The mission of the Department aims at achieving highly ambitious scientific, educational and societal goals:
to preserve and advance knowledge in aerospace engineering through cutting edge research in order to find solutions to present and future demands of society;
to intensively pursue fundamental research to provide solutions for tomorrow's problems;
to create and develop forefront technologies to play a proactive role in our partnership with the aerospace industry;
to provide students with a solid background in aerospace engineering and train qualified engineers for leadership positions in several technical fields in society;
to make the Department a leader in the national and international aerospace community.
---
Printech Circuit Laboratories Ltd

Booth 3

South Woodham Ferrers, Chelmsford – United Kingdom | nick.potts@rfpcbs.com | www.pcbs.space
Printech Circuit Laboratories is a manufacturer of bespoke circuitry, including the design and manufacture of PCB based antenna.
---
Tourismo Milano

Booth 7

Milan – Italy | www.turismo.milano.it
The Tourism area within the Metropolitan Marketing Department of the Municipality of Milan is in charge of the development and implementation of initiatives for the promotion, information and tourist enjoyment of the city of Milan.
The timetable of their attendance in the booth will be:
Monday 3rd: from 8h30 to 18h30
Tuesday 4th: from 10h00 to 19h00
Wednesday 5th: from 10h00 to 17h00