Agenda
Conference Program Overview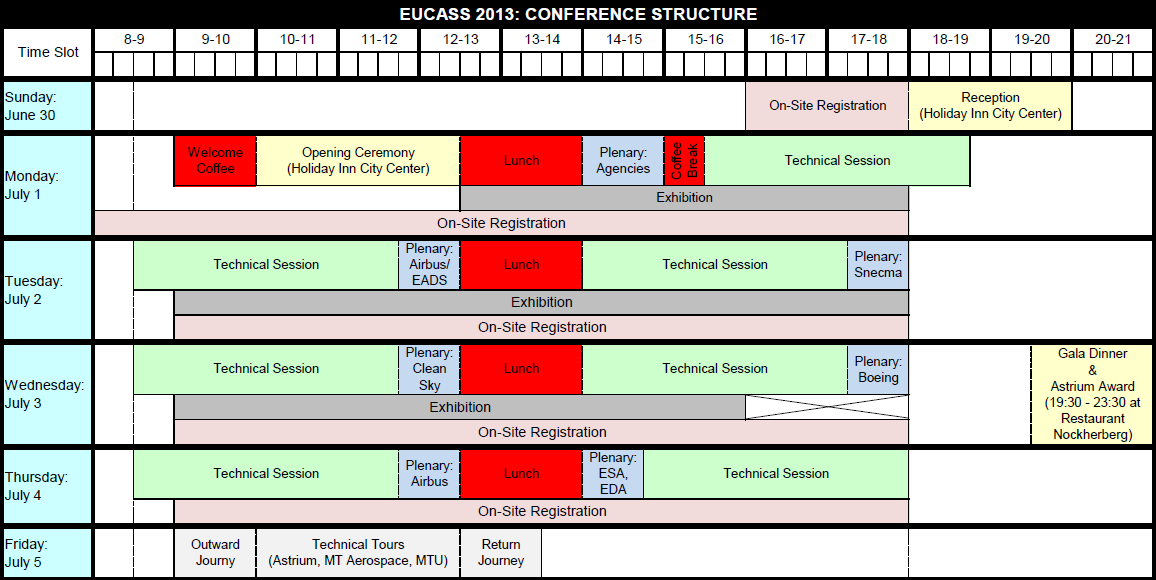 Click here for detailed conference program ... (external link)
Opening Ceremony
J.-P. Taran (President EUCASS), M. Zeil (Bavaria's deputy prime minister and state minister of STMWIVT), J. von Thadden (Head of Political Relations of EADS Astrium), M. Geoghegan-Quinn (EU Commission), J.D. Wörner (President DLR), J.-Y. Le Gall (President CNES), M. Banaszkiewicz (President CBK), J.J. Dordain (Director General ESA)
Monday, July 1, 2013, 10:00-12:30, Holiday Inn, Holiday Inn Forum 1-3
Click here for detailed conference program ... (external link)
Plenary Sessions
Plenary Session - Space Transportation Challenges
Antonio Fabrizi (ESA), Michel Eymard (CNES), Rolf Densing (DLR/ Space Agency)
Monday, July 1, 2013, 14:00-15:00, Holiday Inn, Holiday Inn Forum 1-3
Plenary Session - Developments in Aeronautics and Space Materials
Yann Barbaux (Airbus)
Tuesday, July 2, 2013, 11:50-12:30, Holiday Inn, Holiday Inn Forum 1
Plenary Session - Materials for Competitive Aero Engines
Claude Quillien (Snecma)
Tuesday, July 2, 2013, 17:20-18:00, Holiday Inn, Holiday Inn Forum 1
Plenary Session - Clean Sky: Challenges and Perspectives
Eric Dautriat (Clean Sky)
Wednesday, July 3, 2013, 11:50-12:30, Holiday Inn, Holiday Inn Forum 1
Plenary Session - The Future of Electric Propulsion Systems
Kurt Kreiner (Boeing Satellites)
Wednesday, July 3, 2013, 17:20-18:00, Holiday Inn, Holiday Inn Forum 1
Plenary Session - Future Aircraft
Lars Joergensen (Airbus)
Thursday, July 4, 2013, 11:50-12:30, Holiday Inn, Holiday Inn Forum 12-14
Plenary Session - Title to be announced
Arif Karabeyoglu (SPG) and Toru Shimada (JAXA)
Thursday, July 4, 2013, 14:00-14:20, Holiday Inn, Holiday Inn Forum 12-14
Plenary Session - UAV, perspectives in Europe and research needs
Christian Bréant (EDA)
Thursday, July 4, 2013, 14:20-14:40, Holiday Inn, Holiday Inn Forum 12-14
Click here for detailed conference program ... (external link)
Technical Sessions
Poster Sessions
A selected number of poster presentations is on display in Holiday Inn Hotel, room Forum 8, Monday throughout Wednesday.
Social and Networking Events
Welcome Reception


Sunday, June 30, 2013, 18:00-20:00, Holiday Inn, Registration Area

Welcome Coffee


Monday, July 1, 2013, 9:00-10:00, Holiday Inn, Registration Area

Monday Afternoon Networking Break


Monday, July 1, 2013, 15:00-15:30, Holiday Inn, Meeting Area Foyer

Gala Dinner and Award Ceremony


Wednesday, July 3, 2013, 19:30-23:30, Nockherberg (off-site event)

Lunch Break


Monday through Thursday, 12:30-14:00, Holiday Inn and Novotel, please follow signs
Click here for detailed conference program ... (external link)
Technical Tours
Technical tours will be organized to visit major R&D centers and aerospace industries of the region. The tours will take place on Friday, 5 July 2013. Departure of the buses from the Holiday Inn Hotel will be 9:00 am (8:30 am for MT Aerospace), return will be 2:00 pm (2:30 pm for MT Aerospace).
A pre-registration is required to attend the tours which has closed on Friday, 28 June 2013. There is no possibility for late or on-site inscription. All tour participants have been emailed and may pick-up their tickets/invoices at the registration desk.
Tours to choose of:
Tour 1: MT Aerospace, Augsburg (participation fee 30 EUR)
A pioneering force in the aerospace industry for more than 40 years, MT Aerospace has carved its niche as an internationally respected technology forerunner and innovative expert for customized solutions. Products include propellant and high-pressure tanks such as the casement for the solid rocket boosters of European's Ariane 5 launcher as well as other complex structural parts.
Tour 2: MTU Aero Engines, Munich (participation fee 15 EUR)
MTU Aero Engines is Germany's leading aircraft engine manufacturer. It develops, manufactures and provides service support both for military and civil aircraft engines. Its customers are manufacturers and operators of engines and industrial gas turbines across the world. Onsite facilities comprise R&T, mechanical manufacturing, engine integration and several test beds.
Tour 3: EADS Astrium, Munich (participation fee 15 EUR)
Astrium is the number one company in Europe for space technologies and the third in the world. It is the only global company that covers the full range of civil and defence space systems, equipment and services. The Munich-Ottobrunn site accommodates important R&T units, clean-rooms for satellite integration and solar generator manufacturing, an antenna measuring tower and workshops where e.g. the thrust chamber assembly of Vulcain 2 and Vinci are manufactured.
Accompanying Persons Program
Regarding accompanying person and social program EUCASS 2013 is cooperating with Gray Line - SIGHTseeing - Münchner Stadtrundfahren, a local enterprise offering both Munich sight-seeing tours (with hop-on hop-off option) as well as day excursions to famous destinations in southern Bavaria at attractive prizes. Booking is possible via website, telephone and at your hotel concierge.
AutobusOberbayern GmbH
Gray Line SIGHTseeing München
Schützenstrasse 9
80335 München
http://www.stadtrundfahrten-muenchen.de