Aerospace Europe Science News Bulletin - Issue #24
Edited by EUCASS under E-CAero contract
Words From The Editor
Dear Colleague,
Please find here the E-CAero newsletter #24. Included you find a few announcements of future events organized by one of the E-CAero partners in the H2020 E-CAERO framework, the EUROTURBO association.
The usual review of recently published journals and patents of interest is enriched with data from the International Journal of Turbomachinery, Propulsion and Power, the open-access journal of EUROTURBO.
For the section "Patents of intereset", a few were about Galileo, the European Global Navigation Satellite System (GNSS).
Galileo went live recently, a historical moment for Europe and all users across the world: improved accuracy and novel possibilities are offered. For more infos about global and regional navigational systems, have a look here. It is interesting as well to know what is EGNOS, Europe's regional satellite-based augmentation system (SBAS).
In particular, for the use of Galileo in aviation, please consult this exhaustive online resource in this page of the European Global Navigation Satellite Systems Agency.
Visit their website, there is a plethora of interesting articles and news about Galileo.
JP Taran
This email address is being protected from spambots. You need JavaScript enabled to view it.
P.S.
You can enhance visibility of your own scientific work, increase its readership and bring it faster to the attention of potential readers through this newsletter.
When it's about to come out, do not fail to inform Stella Sauvan at the special email address This email address is being protected from spambots. You need JavaScript enabled to view it. and we'll announce it in our next issue.
---
In this issue
---
To find always the latest news for the events organized by the E-CAero members, do not forget to visit the Aerospace Europe (ae in short) website.
The full papers of the 7th European Conference for Aeronautics and Space Sciences are available in open access with their respective dois at the association website.

A certain number of presentations of invited speakers are available as well for your perusal.

The Aerospace Europe CEAS 2017 (6th CEAS Air & Space conference) will soon take place Oct. 16 - Oct 20 at Bucharest, Romania.

In the frame of the 6th CEAS Air & Space conference announced above as joint event of all associations, a workshop on "Innovation in Aero-Engines" organized by E-CAero partners will be held on October 18, 2017 in session S32 (13:15-15:15).

Please consider that the programme is not definitive, so it may be subject to changes. Always check the conference program page here and here for the official dates and times.

EUROTURBO is organizing its 13th European Turbomachinery Conference, ETC13, at the EPFL, Lausanne, Switzerland, April 8 - April 12, 2019.

The website of the previous edition, held in April this year, is available here.

The first call for papers will be released soon, please check the organizer or the ae website from time to time for the first announcement.


The open-access library of the EUROTURBO Society, available here, already hosting the papers ETC10 and ETC11, will be enriched this October with the papers of the ETC12 conference recently concluded.

The digital library of the ae platform contains in open access many papers and books from E-CAero partners, including papers of ETC and CEAS conferences. Our readers are strongly encouraged to browse the library for interesting articles collected in a centralized repository.
---
For your convenience, starting from newsletter #10 we provide for each article the keywords selected by the respective journal editor.
At the same time, our newsletter editor or his helper is classifying the most interesting articles for our E-CAero partners according to certains areas of interest.
You'll find below first the usual classification with links to the proper article in the classical article list based on the different journals presented in this newsletter.
Applied Mathematics

Fluid Mechanics

Thermophysics and Aeromechanics

Energy and propulsion, including chemical, electrical and nuclear

GNC & Avionics

Information processing, command and control

Materials

Structures

Systems

Enabling S & T/Numerics

Enabling S & T/Simulation

Enabling S & T/Metrology (conventional & non-intrusive) and instrumentation
---
TsAGI Science Journal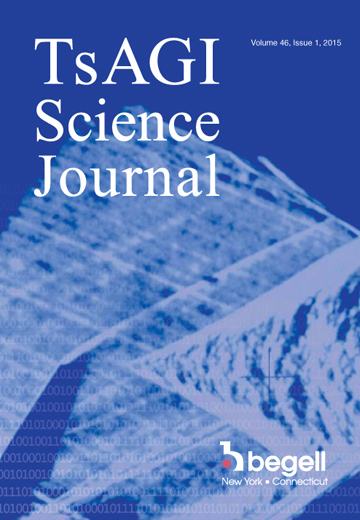 Since Newsletter #23 (see the past issues on our website here) three new volumes have been published in the meanwhile:
Volume 47, Issue N.7 (toc available here)
Volume 47, Issue N.8 (toc available here)
Volume 48, Issue N.1 (toc available here)
The toc of the last issue is reported below for your convenience.
The investigation of the preferable interference of a tractor and pusher propellers mounted on the wing tips
Kornushenko, Aleksandr Vyacheslavovich and Kudryavtsev, Oleg Valentinovich and Teperin, Leonid Leonidovich and Teperina, Ludmila Nikolaevna and Shustov, Andrei Viktorovich and Orfinejad, Farid and Thein, Myo
Pages: 1–9
Keywords: wing and propeller vortex model, swirl flow, preferable interference
Abstract
Numerical investigations of the effects of shapes and sizes of the gap between the lifting surface and control surface with the overhang balance on its effectiveness and hinge moment
Bogatyrev, Vladimir Valeryevich
Pages: 11–24
Keywords: control surface, overhang balance, effectiveness, hinge moment
Abstract
Translational nonequilibrium thin shock layer on simple bodies
Ankudinov, Albert Leonidovich
Pages: 25–29
Keywords: hypersonic flow, Burnett approximation, translational nonequilibrium, thin shock layer, wedge (cone), Navier–Stokes thin shock layer
Abstract
Application of various models of turbulence for calculation of incompressible internal flows
Baranov, Pavel Andreevich and Guvernyuk, Sergey Vladimirovich and Zubin , Mikhail Adolfovich and Isaev, Sergey Aleksandrovich and Usachov, Aleksandr Evguenyevich
Pages: 31–42
Keywords: numerical simulation, differential turbulence models, comparison with
Abstract
Experimental investigations of wing lift control by actuators distributed on the wing surface
Nalivaiko, Aleksandr Gennadievich and Urusov, Andrey Yuryevich and Uspenskii, Aleksandr Aleksandrovich and Ustinov, Maxim Vladimirovich and Flaxman, Jacob Shmerkovich
Pages: 43–60
Keywords: flow separation, dielectric barrier discharge, synthetic jets, aerodynamic characteristics
Abstract
Nonequilibrium aerosol flow in a supersonic wind tunnel
Amelyushkin, Ivan Alekseevich and Ganiev, Yuriy Khudyevich and Gobyzov, Oleg A. and Lipnitskiy, Yuriy Mikhaylovich and Lozhkin, Yurii Andreevich and Filippov, Sergey Evgenievich
Pages: 61–80
Keywords: image processing, inverse problems, nonintrusive optical diagnostics, two-phase flow velocity nonequilibrium
Abstract
Structural design of helicopter wing based on topology and global-local optimization
Alexandrin, Yurii Semenovich and Tuktarov, Sergei Aleksandrovich and Chedrik, Vasilii Vasil'evich
Pages: 81–96
Keywords: structural layout, finite-element model, topology optimization, global&minus, local approach, aeroelasticity, strength, buckling
Abstract
Investigation of single-mode flutter of various shape plates at low supersonic speeds
Abdukhakimov, Farrukh Adkhamovich and Vedeneev, Vasily Vladimirovich
Pages: 97–110
Keywords: panel flutter, single-mode flutter, plate flutter
Abstract
Contribution of tsagi to the development of electric propulsion engines for aerospace vehicles: to the 50th anniversary of the national program "yantar"
Filatiev, Aleksandr Sergeevich and Skvortsov, Vladimir Vladimirovich
Pages: 111–114
Keywords: TsAGI, propulsion engine
Abstract
Journal of Aerospace Engineering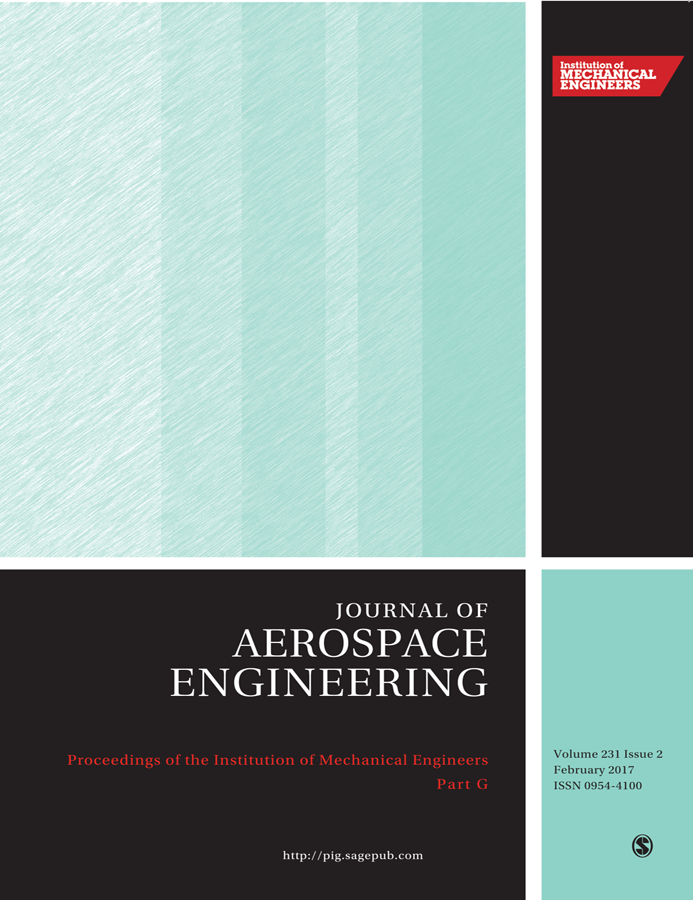 Since last newsletter, three new issues have been released:
Volume 231, Issue N.9 of July 2017 (toc available here)
Volume 231, Issue N.10 of August 2017 (toc available here)​

Volume 231, Issue N.11 of September 2017

(toc available here)
The toc for the last issue is reported below for your convenience.
Wrinkling analysis and control of rectangular space membrane
Liu, Mingjun and Huang, Jin and Wang, Yali
Pages: 1959–1969
Keywords: Membrane, wrinkles, analysis, control
Abstract
A study of the effect of projectile orientation on the results of ballistic impact tests as described in the easa cs-25 regulations for fuel tank access covers
De Vuyst, Tom and Vignjevic, Rade and Azorin Albero, Adrian and Campbell, James C and Djordjevic, Nenad and Hughes, Kevin
Pages: 1970–1978
Keywords: EASA CS-25, fuel tank access cover, ballistic impact, cube projectiles, engine debris
Abstract
Autopilot design for tilt-rotor unmanned aerial vehicle with nacelle mounted wing extension using single hidden layer perceptron neural network
Kang, Youngshin and Kim, Nakwan and Kim, Byoung-Soo and Tahk, Min-Jea
Pages: 1979–1992
Keywords: Single hidden layer, perceptron, neural network, back-propagation, pseudo-control hedging, dynamic inversion, autonomous, waypoint, tilt-rotor, wing extension, nacelle fixed auxiliary wing
Abstract
Optimal pulsed guidance law with terminal impact angle constraint
Liu, JH and Shan, JY and Liu, Q
Pages: 1993–2005
Keywords: Optimal pulsed guidance, extended maximum principle, two-point boundary value problem, particle swarm optimization, Kriging surrogate model
Abstract
Robust l∞ convex optimisation for uavs cooperative motion estimation
Boulekchour, Mohammed and Aouf, Nabil and Richardson, Mark
Pages: 2006–2031
Keywords: Robust convex optimisation, cooperative navigation, multi-view geometry, registration, uncertainty propagation, L∞ norm, monocular visual odometry, second-order cone programming
Abstract
Suboptimal mid-course guidance algorithm for accelerating missiles
Seo, Min-Guk and Tahk, Min-Jea
Pages: 2032–2047
Keywords: Midcourse guidance, accelerating missile, optimal guidance, feedback guidance, constrained guidance
Abstract
Unmanned aerial vehicle trajectory planning by an integrated algorithm in a complex obstacle environment
Zhang, Siyu and Yu, Jianqiao and Mei, Yuesong and Sun, Huadong and Du, Yongbo
Pages: 2048–2067
Keywords: Unmanned aerial vehicle, trajectory planning, complex environment, obstacle-rich, integrated algorithm
Abstract
Development of a boundary layer parameters identification method for transition prediction with complex grids
Hao, Zihui and Yan, Chao and Zhou, Ling and Qin, Yupei
Pages: 2068–2084
Keywords: Grid-reorder, boundary layer parameter, γ-Reθ model, cross-flow, transition correlation, k-ω-γ model
Abstract
Effect of rocket exhaust of canisterized missile on adjoining launching system
Chandra Murty, MSR and Sinha, PK and Chakraborty, D
Pages: 2085–2097
Keywords: Universal vertical launch system, computational fluid dynamics, muzzle blast wave
Abstract
Effects of lay-up sequence in thick composite tubes for helicopter landing gears
Yazdani Sarvestani, Hamidreza and Hojjati, Mehdi
Pages: 2098–2110
Keywords: Helicopter landing gears, thick composite straight tube, lay-up sequences, displacement-based method, stress analysis
Abstract
Evaluation of side spillage for a hypersonic air intake using computational fluid dynamic techniques
Javed, Afroz and Chakraborty, Debasis
Pages: 2111–2119
Keywords: Hypersonic, air intake, side spillage, computational fluid dynamic, scramjet
Abstract
Experimental investigation of effects of suction side squealer tip on the aeroelastic stability of a linear oscillating compressor cascade
Ma, Hongwei and Jin, Chao and Wei, Wei
Pages: 2120–2131
Keywords: Oscillating cascade, tip leakage flow, aeroelastic stability, suction side squealer, fluid–structure interaction
Abstract
Flexible air-breathing hypersonic vehicle control based on a novel non-singular fast terminal sliding mode control and nonlinear disturbance observer
Yang, Xiaoqian and Li, Jian and Dong, Yi
Pages: 2132–2145
Keywords: Flexible air-breathing hypersonic vehicle, terminal sliding mode control, disturbance observer, back-stepping method, nonlinear system control
Abstract
Aerodynamic and stability analysis of personal vehicle in tandem-wing configuration
Goetzendorf-Grabowski, Tomasz and Figat, Marcin
Pages: 2146–2162
Keywords: Aircraft design, personal air transport systems, tandem wing, stability, flying qualities, aerodynamics
Abstract
Accuracy analysis and form-finding design of uncertain mesh reflectors based on interval force density method
Li, Tuanjie and Deng, Hanqing and Tang, Yaqiong and Jiang, Jie and Ma, Xiaofei
Pages: 2163–2173
Keywords: Mesh reflectors, uncertainty, interval analysis, force density method, form-finding design
Abstract
Acta Astronautica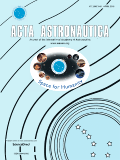 Since newsletter #23, a couple of new volumes have been published and the last one is in progress.
Volume 140 is being compiled, the toc at the time of this writing is reported below for your convenience (please remember that is a work in progress).
Self-supervised learning as an enabling technology for future space exploration robots: iss experiments on monocular distance learning
van Hecke, Kevin and de Croon, Guido C.H.E. and Hennes, Daniel and Setterfield, Timothy P. and Saenz-Otero, Alvar and Izzo, Dario
Pages: 1–9
Keywords: Persistent self-supervised learning; Stereo vision; Monocular depth estimation; Space robotics
Abstract
Sweet cubesat – water detection and water quality monitoring for the 21st century
Antonini, Kelly and Langer, Martin and Farid, Ahmed and Walter, Ulrich
Pages: 10–17
Keywords: CubeSat; Hyperspectral; Africa; Water quality; Mission design; Constellation
Abstract
Mechanism of shock train rapid motion induced by variation of attack angle
Xu, Kejing and Chang, Juntao and Zhou, Weixing and Yu, Daren
Pages: 18–26
Keywords: Angle of attack; Shock train leading edge; Jumping; Rapid motion
Abstract
Accurate analytical periodic solution of the elliptical kepler equation using the adomian decomposition method
Alshaery, Aisha and Ebaid, Abdelhalim
Pages: 27–33
Keywords: Kepler's equation; Adomian decomposition method; Adomian polynomials; Series solution
Abstract
Orbit-attitude coupled motion around small bodies: sun-synchronous orbits with sun-tracking attitude motion
Kikuchi, Shota and Howell, Kathleen C. and Tsuda, Yuichi and Kawaguchi, Jun'ichiro
Pages: 34–48
Keywords: Small body; Solar radiation pressure; Gravity irregularity; Sun-synchronous orbit; Sun-tracking motion; Orbit-attitude coupled motion
Abstract
Tracking control of wmrs on loose soil based on mixed h 2 / h ∞ control with longitudinal slip ratio estimation
Gao, Haibo and Chen, Chao and Ding, Liang and Li, Weihua and Yu, Haitao and Xia, Kerui and Liu, Zhen
Pages: 49–58
Keywords: Wheeled mobile robots; Nonlinear extended state observer; Mixed H2/H∞; Tracking control; Longitudinal slip ratio estimation
Abstract
Global risk & global challenges – space as a game changer for socioeconomic sustainable development
Lehnert, Christopher and Karlsson, Evelina and Giannopapa, Christina
Pages: 59–65
Keywords: Societal challenges; Risk management; Strategy; Policy analyses; Space activities; ESA
Abstract
Shape accuracy optimization for cable-rib tension deployable antenna structure with tensioned cables
Liu, Ruiwei and Guo, Hongwei and Liu, Rongqiang and Wang, Hongxiang and Tang, Dewei and Song, Xiaoke
Pages: 66–77
Keywords: Shape accuracy optimization; Deployable structure; Tensioned cables; Pretension; Finite element method; Genetic algorithm
Abstract
Orthotropic node-separation finite element method for composite laminate in hypervelocity impact simulation
Zhang, Xiaotian and Liu, Tao and Qiu, Xinming
Pages: 78–90
Keywords: Hypervelocity impact; Composite laminate; Material model; Finite element method
Abstract
Resonantly interacting non-linear waves in a van der waals gas
Nath, Triloki and Gupta, R.K. and Singh, L.P.
Pages: 91–95
Keywords: Shock wave; van der Waals gas; Asymptotic solution; Wave interaction
Abstract
Vzlusat-1: nanosatellite with miniature lobster eye x-ray telescope and qualification of the radiation shielding composite for space application
Urban, Martin and Nentvich, Ondrej and Stehlikova, Veronika and Baca, Tomas and Daniel, Vladimir and Hudec, Rene
Pages: 96–104
Keywords: Nanosatellite; Carbon material; Space qualification; Lobster eye; CubeSat; Timepix
Abstract
How to prevent mind-wandering during an eva ? presentation of a mind-wandering detection method using ecg technology in a mars-analog environment
Gontier, Camille
Pages: 105–112
Keywords: Mind-wandering; Heart rate variability; Human factors; Mars analog mission; MDRS
Abstract
Coronal mass ejection early-warning mission by solar-photon sailcraft
Vulpetti, Giovanni and Circi, Christian and Pino, Tommaso
Pages: 113–125
Keywords: Space weather; Solar sailing; Heliocentric sailcraft-earth synchronization; Electrochromic device
Abstract
Investigation of flameholding characteristics in a kerosene-fueled scramjet combustor with tandem dual-cavity
Wang, Yu-hang and Song, Wen-yan and Shi, De-yong
Pages: 126–132
Keywords: Propulsion system; Phase equilibrium; Sublimation; Small spacecraft
Abstract
Development of solid-gas equilibrium propulsion system for small spacecraft
Chujo, Toshihiro and Mori, Osamu and Kubo, Yuki
Pages: 133–139
Keywords: Rendezvous; Required position; Required velocity; Predictive guidance; Sliding mode
Abstract
The detection of cold dark matter with the mössbauer effect in earth satellites
Winterberg, Friedwardt
Pages: 140–141
Keywords: Trajectory optimization; Combined cycle engine; Particle swarm optimization; Constraint handling; Turbulence operator
Abstract
Sliding mode predictive guidance for terminal rendezvous in eccentric orbits
Kasaeian, Seyed Aliakbar and Assadian, Nima and Ebrahimi, Masoud
Pages: 142–155
Keywords: Star tracker; Attitude determination; Star identification; Panoramic camera; Template matching; Iterative closest point
Abstract
Ascent phase trajectory optimization for vehicle with multi-combined cycle engine based on improved particle swarm optimization
Zhou, Hongyu and Wang, Xiaogang and Bai, Yuliang and Cui, Naigang
Pages: 156–165
Keywords: Sandwich panel; Pyramidal lattice core; Elastic foundation; Thermal buckling elimination; Supersonic airflow; Aerothermoelastic analysis
Abstract
A new star tracker concept for satellite attitude determination based on a multi-purpose panoramic camera
Opromolla, Roberto and Fasano, Giancarmine and Rufino, Giancarlo and Grassi, Michele and Pernechele, Claudio and Dionisio, Cesare
Pages: 166–175
Keywords: Hypersonic vehicle; Waverider; Aerodynamic design methodology; Basic flow field
Abstract
Investigations on the influences of elastic foundations on the aerothermoelastic flutter and thermal buckling properties of lattice sandwich panels in supersonic airflow
Chai, Yu-Yang and Song, Zhi-Guang and Li, Feng-Ming
Pages: 176–189
Keywords: Microgravity; Glucocorticoid; Bone loss
Abstract
An overview of research on waverider design methodology
Ding, Feng and Liu, Jun and Shen, Chi-bing and Liu, Zhen and Chen, Shao-hua and Fu, Xiang
Pages: 190–205
Keywords: Optimal sensor placement; Space solar power satellite; Effective independence method; Effective interval index; Reliability; Genetic algorithm
Abstract
Glucocorticoid: a potential role in microgravity-induced bone loss
Yang, Jiancheng and Yang, Zhouqi and Li, Wenbin and Xue, Yanru and Xu, Huiyun and Li, Jingbao and Shang, Peng
Pages: 206–212
Keywords: Asteroid Landing; Model Predictive Control; Predictive Path Planning; Multiple-Horizon Multiple-Model Predictive Control
Abstract
Optimal sensor placement for deployable antenna module health monitoring in ssps using genetic algorithm
Yang, Chen and Zhang, Xuepan and Huang, Xiaoqi and Cheng, ZhengAi and Zhang, Xinghua and Hou, Xinbin
Pages: 213–224
Keywords: Vision-aided navigation; Planetary landing; Database construction; Feature exploitability
Abstract
Soft landing on an irregular shape asteroid using multiple-horizon multiple-model predictive control
AlandiHallaj, MohammadAmin and Assadian, Nima
Pages: 225–234
Keywords: Numerical simulation; Experimental study; Transient ignition; Hybrid rocket motor
Abstract
Database construction for vision aided navigation in planetary landing
Yu, Meng and Cui, Hutao and Li, Shuang and Tian, Yang
Pages: 235–246
Keywords: Spacecraft formation flight; Lorentz-augmented formation; Optimal hybrid control; Relative Cartesian dynamics
Abstract
Three-dimensional numerical and experimental studies on transient ignition of hybrid rocket motor
Tian, Hui and Yu, Ruipeng and Zhu, Hao and Wu, Junfeng and Cai, Guobiao
Pages: 247–254
Keywords: Vibration suppression; Input shaping; Solar array drive system; Adaptive robust control; Angular position control
Abstract
A cartesian relative motion approach to optimal formation flight using lorentz forces and impulsive thrusting
Vatankhahghadim, Behrad and Damaren, Christopher J.
Pages: 255–263
Keywords: RBCC engine; Isolator; Shock train; Numerical simulation; Combustion
Abstract
Adaptive robust control with input shaping technology for solar array drive system
Zhou, Tong and Guo, Hong and Xu, Jinquan and Lin, Chuanchuan
Pages: 264–272
Keywords: Asteroid deflection; Laser ablation; Kinetic impactor; Ion beam shepherd; Gravity tractor
Abstract
From outer space to earth—the social significance of isolated and confined environment research in human space exploration
Tachibana, Koji and Tachibana, Shoichi and Inoue, Natsuhiko
Pages: 273–283
Keywords: Autonomous earth observation satellite; Sensor web; Online scheduling; Urgent tasks; Progressive techniques; Revision techniques
Abstract
Research on shock wave characteristics in the isolator of central strut rocket-based combined cycle engine under ma5.5
Wei, Xianggeng and Xue, Rui and Qin, Fei and Hu, Chunbo and He, Guoqiang
Pages: 284–292
Keywords: Solar power satellite; High-order gravity and torque; High-order flexibility coefficient; Flexible vibration
Abstract
Statistical multi-criteria evaluation of non-nuclear asteroid deflection methods
Thiry, Nicolas and Vasile, Massimiliano
Pages: 293–307
Keywords: Laser ablation; Non-Fourier heat conduction; Phase transition; PTFE
Abstract
A hybrid online scheduling mechanism with revision and progressive techniques for autonomous earth observation satellite
Li, Guoliang and Xing, Lining and Chen, Yingwu
Pages: 308–321
Keywords: Computational fluid dynamics; Scramjet nozzle; Hypersonic flow; Energy deposition; Optimization design
Abstract
Gravitational force and torque on a solar power satellite considering the structural flexibility
Zhao, Yi and Zhang, Jingrui and Zhang, Yao and Zhang, Jun and Hu, Quan
Pages: 322–337
Keywords: Multistage waverider; Conical theory; Wide-ranged; Morphing
Abstract
Non-fourier heat conduction and phase transition in laser ablation of polytetrafluoroethylene (ptfe)
Zhang, Yu and Zhang, Daixian and Wu, Jianjun and Li, Jian and He, Zhaofu
Pages: 338–350
Keywords: Spacecraft; Inertia parameters; Identification; Optimal excitation; Least-squares method
Abstract
Optimization design of energy deposition on single expansion ramp nozzle
Ju, Shengjun and Yan, Chao and Wang, Xiaoyong and Qin, Yupei and Ye, Zhifei
Pages: 351–361
Keywords: Telerobotics; Plant growth experiments; Lunar mission; Moon village
Abstract
Novel methodology for wide-ranged multistage morphing waverider based on conical theory
Liu, Zhen and Liu, Jun and Ding, Feng and Xia, Zhixun
Pages: 362–369
Keywords: Rotating detonation engine; Chamber inlet state; Plenum flowfield; Propagation mode-transition
Abstract
Optimal excitation design for identifying inertia parameters of spacecraft
Zhai, Kun and Wang, Tianshu and Meng, Dongbo
Pages: 370–379
Keywords: DCMIX; Acceleration signal; ISS vibrational environment; Spectral entropy
Abstract
Human assisted robotic vehicle studies - a conceptual end-to-end mission architecture
Lehner, B.A.E. and Mazzotta, D.G. and Teeney, L. and Spina, F. and Filosa, A. and Pou, A. Canals and Schlechten, J. and Campbell, S. and Soriano, P. López
Pages: 380–387
Keywords: Water recycling system of the Lunar Palace 1; Bioregenerative life support system; Membrane-biological activated carbon reactor; Condensate water; Sanitary & kitchen wastewater; Urine treatment
Abstract
Effects of injection nozzle exit width on rotating detonation engine
Sun, Jian and Zhou, Jin and Liu, Shijie and Lin, Zhiyong and Cai, Jianhua
Pages: 388–401
Keywords: Hybrid rocket motor; Secondary injection; Numerical simulation; Combustion efficiency
Abstract
Investigation of flameholding mechanisms in a kerosene-fueled scramjet combustor
Wang, Yu-hang and Song, Wen-yan and Shi, De-yong
Pages: 402–408
Keywords: Orbit selection; Instrument design; Coverage analysis; Mission performance
Abstract
Onsite vibrational characterization of dcmix2/3 experiments
Ollé, Judit and Dubert, Diana and Gavaldà, Josefina and Laverón-Simavilla, Ana and Ruiz, Xavier and Shevtsova, Valentina
Pages: 409–419
Keywords: Friction stir spot welding; Friction stir welding; Meteorite; In-space construction; Invar; Low carbon steel
Abstract
The water treatment and recycling in 105-day bioregenerative life support experiment in the lunar palace 1
Xie, Beizhen and Zhu, Guorong and Liu, Bojie and Su, Qiang and Deng, Shengda and Yang, Lige and Liu, Guanghui and Dong, Chen and Wang, Minjuan and Liu, Hong
Pages: 420–426
Keywords: Attitude agile maneuvering; Hybrid actuators; Singularity avoidance; Null motion; Performance index
Abstract
Parametric investigation of secondary injection in post-chamber on combustion performance for hybrid rocket motor
Cai, Guobiao and Cao, Binbin and Zhu, Hao and Tian, Hui and Ma, Xuan
Pages: 427–438
Keywords: LARES satellite; LARASE experiment; Neutral atmosphere drag; Satellite orbital decay; Non-gravitational perturbations
Abstract
Sentinel-3 coverage-driven mission design: coupling of orbit selection and instrument design
Cornara, S. and Pirondini, F. and Palmade, J.L.
Pages: 439–451
Keywords: Joint; C/C composite; GH3044 nickle-based superalloy; Micro-oxidation; Interlocking interface; Bonding strength
Abstract
Weldability of an iron meteorite by friction stir spot welding: a contribution to in-space manufacturing
Evans, William Todd and Neely, Kelsay E. and Strauss, Alvin M. and Cook, George E.
Pages: 452–458
Keywords: Hypersonic; Boundary layer stability; Wavy wall; Numerical simulation
Abstract
Null motion strategy for spacecraft large angle agile maneuvering using hybrid actuators
Wu, Yun-Hua and Han, Feng and Hua, Bing and Chen, Zhi-Ming
Pages: 459–468
Keywords: Gravimetry; Drag-free; Orbit; Formation; Pointing; Attitude
Abstract
On the secular decay of the lares semi-major axis
Pardini, C. and Anselmo, L. and Lucchesi, D.M. and Peron, R.
Pages: 469–477
Keywords: Philae; Rosetta; Attitude; Trajectory; ROMAP; RPC-MAG; CONSERT
Abstract
Influence of micro-oxidation on joints of c/c composites and gh3044 for large-size aerospace parts
Shi, Xiaohong and Jin, Xiuxiu and Yan, Ningning and Yang, Li
Pages: 478–484
Keywords: Joint, C/C composite, GH3044, nickle-based, superalloy, Micro-oxidation, Interlocking interface,Bonding strength ​
Abstract
Numerical simulation of wavy surface effect on the stability of a hypersonic boundary layer
Zhou, Yunlong and Liu, Wei and Chai, Zhenxia and Yang, Xiaoliang
Pages: 485–496
Keywords: Hypersonic, Boundary layer stability, Wavy wall, Numerical simulation
Abstract
Embedded model control gnc for the next generation gravity mission
Colangelo, Luigi and Massotti, Luca and Canuto, Enrico and Novara, Carlo
Pages: 497–508
Keywords: Gravimetry, Drag-free, Orbit, Formation, Pointing, Attitude
Abstract
Reconstruction of the flight and attitude of rosetta's lander philae
Heinisch, Philip and Auster, Hans-Ulrich and Plettemeier, Dirk and Kofman, Wlodek and Herique, Alain and Statz, Christoph and Hahnel, Ronny and Rogez, Yves and Richter, Ingo and Hilchenbach, Martin and et al.
Pages: 509–516
Keywords: Philae, Rosetta, Attitude, Trajectory, ROMAP, RPC-MAG, CONSERT​
Abstract
---
One of our readers reminds us to check the interesting articles collected in open access by the EUROTURBO society in their International Journal of Turbomachinery Propulsion and Power.

Of particular interest is this article from the Editor-in-Chief, introducing the journal as an open access dissemination tool for research on turbomachinery. The journal has been founded in late 2016 and published 2 volumes for a total of 5 issues so far.
Below you find all the articles published for your convenience.
The international journal of turbomachinery propulsion and power: the open access dissemination tool for research on turbomachinery
Manna, Marcello
Pages: 1
Abstract
Full Paper
Impact of the exhaust geometry on flow losses in a high-pressure steam turbine
Musch, Christian and Hecker, Simon and Gloss, Daniel and Steinhoff, Ruben
Pages: 2
Keywords: steam turbine; exhaust flow; volute design
Abstract
Full Paper
Aerodynamic performance of an ultra-low aspect ratio centripetal turbine stator
Fontaneto, Fabrizio and Arts, Tony and Simon, Matthieu and Picot, Philippe
Pages: 3
Keywords: ultra-low aspect ratio; centripetal turbine stator; transonic; micro pressure probe; virtual
Abstract
Full Paper
Film cooling effectiveness downstream of trailing edge slots including cutback surface protuberances
Wong, Tsun and Ireland, Peter and Self, Kevin
Pages: 4
Keywords: turbine; blade; vane; trailing edge; pressure sensitive paint; effectiveness; cooling; land;
Abstract
Full Paper
Advanced endwall contouring for loss reduction and outflow homogenization for an optimized compressor cascade
Reutter, Oliver and Rozanski, Magdalena and Hergt, Alexander and Nicke, Eberhard
Pages: 1
Keywords: compressor; CFD; optimization; endwall contouring; cascade; outflow angle; overturning;
Abstract
Full Paper
3d numerical modeling of zeotropic mixtures and pure working fluids in an orc turbo-expander
Gad-el-Hak, Ibrahim and Hussin, Ahmed and Hamed, Ashraf and Mahmoud, Nabil
Pages: 2
Keywords: radial inflow turbine; organic Rankine cycles; working fluids; computational fluid
Abstract
Full Paper
Cfd-based investigation of turbine tonal noise induced by steady hot streaks
Holewa, Axel and Lesnik, Sergey and Ashcroft, Graham and Guérin, Sébastien
Pages: 3
Keywords: indirect combustion noise; turbine noise; hot streaks; Harmonic Balance
Abstract
Full Paper
Transition models for turbomachinery boundary layer flows: a review
Dick, Erik and Kubacki, Slawomir
Pages: 4
Keywords: turbomachinery flows; transition models; boundary layers; bypass transition; separationinduced transition; wake-induced transition; Reynolds-averaged Navier-Stokes; intermittency; laminar
Abstract
Full Paper
On initiation of stall in axial flow compressors
Owczarek, Jerzy
Pages: 5
Keywords: Stall initiation in axial flow compressors; Reflecting Pressure Pulses; Reflecting Pressure
Abstract
Full Paper
Hot streak evolution in an axial hp turbine stage
Gaetani, Paolo and Persico, Giacomo
Pages: 6
Keywords: hot streaks; axial turbine; turbine performance; combustor-turbine coupling
Abstract
Full Paper
Analysis of the aerodynamic and structural performance of a cooling fan with morphing blade
Suman, Alessio and Fortini, Annalisa and Aldi, Nicola and Pinelli, Michele and Merlin, Mattia
Pages: 7
Keywords: morphing blade; adaptive geometry; computational fluid dynamics; fluid-structure coupling
Abstract
Full Paper
Linear stability prediction of vortex structures on high pressure turbine blades
Zauner, Markus and Sandham, Neil and Wheeler, Andrew and Sandberg, Richard
Pages: 8
Keywords: stability analysis; boundary-layer; transition; turbine
Abstract
Full Paper
Effects of the approximations embodied in the momentum theory as applied to the nrel phase vi wind turbine
Bontempo, Rodolfo and Manna, Marcello
Pages: 9
Keywords: momentum theory; blade-element/momentum theory; wind turbine
Abstract
Full Paper
Adjoint-based design optimisation of an internal cooling channel u-bend for minimised pressure losses
Verstraete, Tom and Müller, Lasse and Müller, Jens-Dominik
Pages: 10
Keywords: internal cooling channel; adjoint-based optimisation; tri-variate B-spline
Abstract
Full Paper
A cfd-based throughflow method with three-dimensional flow features modelling
Pacciani, Roberto and Marconcini, Michele and Arnone, Andrea
Pages: 11
Keywords: Computational fluid dynamics; Throughflow method; Secondary flows; Tip leakage flows
Abstract
Full Paper
The influence of combustor swirl on pressure losses and the propagation of coolant flows at the large scale turbine rig (lstr): experimental and numerical investigation
Werschnik, Holger and Schneider, Marius and Herrmann, Janina and Ivanov, Dimitri and Schiffer, Heinz-Peter and Lyko, Christoph
Pages: 12
Keywords: combustor–turbine interaction; flow tracing; swirl; film cooling; scalar tracking method
Abstract
Full Paper
Influence of pressure fluctuations on the mean value of different pneumatic probes
Bauinger, Sabine and Marn, Andreas and Göttlich, Emil and Heitmeir, Franz
Pages: 13
Keywords: measurement technique; pneumatic probes; turbomachinery; turbulence; rakes;
Abstract
Full Paper
Cad integrated multipoint adjoint-based optimization of a turbocharger radial turbine
Mueller, Lasse and Verstraete, Tom
Pages: 14
Keywords: adjoint-based optimization; CAD; geometric constraints; multipoint; CFD; radial turbine
Abstract
Full Paper
The effect of hot streaks on a high pressure turbine vane cascade with showerhead film cooling
Barigozzi, Giovanna and Mosconi,Silvia and Perdichizzi,Antonio and Ravelli,Silvia
Pages: 15
Keywords: hot streak; first stage vane; showerhead film cooling
Abstract
Full Paper
Effect of distortion on turbofan tonal noise at cutback with hybrid methods
Daroukh, Majd and Moreau, Stéphane and Gourdain, Nicolas and Boussuge, Jean-François and Sensiau, Claude
Pages: 16
Keywords: fan tonal noise; inlet distortion; hybrid methods
Abstract
Full Paper
---
The following patents have been selected from the EPO database using the following criteria: "WORD = galileo AND WORD = satellite AND WORD = 'solar panel' AND PUA12 >= 20160101". In this case, this means all patents whose A1/A2 documents both have been published after January 1, 2016 and contain the keywords aforementioned. Since patents can be filed towards different organizations, sometimes the data available in the EPO database (the version available for free online) is not the most complete. In that case an external link is used.
Many patents are related to multiple navigation systems, due to the simplicity and benefits of using multiple satellite networks based on availability, but when Galileo and EGNOS are in use, increase in accuracy are enviseageables.
On this topic we see many patents filed by chinese companies.
---
How to browse the EPO patent list
There are different tools online to browse/search patents, for example google and the wipo. Here we will be using the EPO Patent information services for experts, from this address. It is possible to browse patents based on many parameters, inventor name, applicant/proprietor (usually a company), application date, etc. etc. In the future we will consider patents that have published their A1/A2 documents since the date of the last newsletter.
The definition of A1 and A2 are available here.
Basically when a European patent application is published together with the search report done by the agency, it is known as an A1 publication. When this application is published without the search report, it is an A2 document.
The search report is then published later as an A3 document.
When the patent is granted, it is published as a B document.
| | |
| --- | --- |
| Coordinator | Participants |