Aerospace Europe Science News Bulletin - Issue #23
Edited by EUCASS under E-CAero contract
Words From The Editor
Dear Colleague,
Please find here the E-CAero newsletter #23. This newsletter number marks a small change in denomination but the substance of the newsletter remains the same. EUCASS is partner of E-CAero in the H2020 E-CAERO framework.
In this newsletter you find the usual review of recently published journals of interested with our classification and the section patents of interest will be this time dedicated to solar panels for private, space and aeronautical applications.
Newsletter #22 has been published recently therefore only a limited number of new journal volumes have bene published in the meantime.
JP Taran
This email address is being protected from spambots. You need JavaScript enabled to view it.
P.S.
You can enhance visibility of your own scientific work, increase its readership and bring it faster to the attention of potential readers through this newsletter.

When it's about to come out, do not fail to inform Stella Sauvan at the special email address This email address is being protected from spambots. You need JavaScript enabled to view it. and we'll announce it in our next issue.
---
In this issue
---
To find always the lastest news for the events organized by the E-CAero members, do not forget to visit the Aeronautics & Arespace European Platform website.
You find a useful calendar of all the events organized by the E-CAero members here, while the next joint events of all associations are:
---
For your convenience, starting from newsletter #10 we provide for each article the keywords selected by the respective journal editor.
At the same time, our newsletter editor or his helper is classifying the most interesting articles for EUCASS according to our areas of interest.
You'll find below first the EUCASS classification with links to the proper article in the classical article list based on the different journals presented in this newsletter.
Applied Mathematics

Fluid Mechanics

Thermophysics and Aeromechanics

Energy and propulsion, including chemical, electrical and nuclear

GNC & Avionics

Information processing, command and control

Structures

Systems

Enabling S & T/Numerics

Enabling S & T/Simulation

Enabling S & T/Metrology (conventional & non-intrusive) and instrumentation
---
TsAGI Science Journal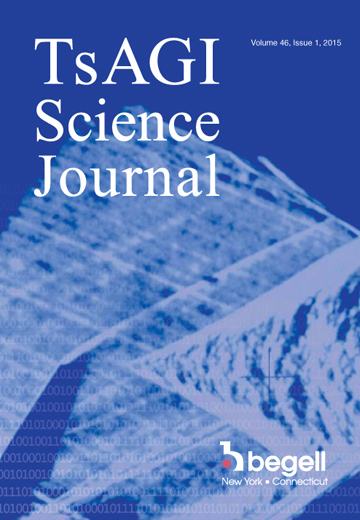 Since Newsletter #22 (see the past issues on our website here) one new volumes has been published in the meanwhile:
Volume 47, Issue N.6 (toc available here)
About construction of flat bodies with increased critical mach number
Takovitskii, Sergey Alexandrovich
Pages: 563–579
Keywords: flat body, critical Mach number, optimization, local linearization, analytical solution
Abstract
Lifting body aerodynamic efficiency increase using heat exchange
Petrov, Aleksander Sergeevich and Soudakov, Georgiy Grigoryevich
Pages: 581–597
Keywords: heat exchange, lifting quality, lift-to-drag ratio, drag, plate, airfoil, wing
Abstract
Maximum principle for pressure in ideal incompressible fluid flows
Golubkin, Valerii Nikolaevich and Kovalev, Vitalii Petrovich and Sizykh, Grigorii Borisovich
Pages: 599–609
Keywords: maximum principle, vortex flows, ideal incompressible fluid, stagnation point
Abstract
Solving the problem of spatial development of perturbations in the linear theory of hydrodynamic stability by phase function modulation
Kuzminsky, Vladimir Aleksandrovich
Pages: 611–621
Keywords: hydrodynamic instability, boundary layer, swept wing
Abstract
The influence of the track behind the undercarriage on the field of speed in the region of a ram air turbine
Matrosov, Aleksandr Anatolievich and Pavlenko, Olga Viktorovna and Perchenkov, Evgenii Sergeevich and Slitinskaya, Alina Yurievna and Chuban', Vitalii Dmitrievich
Pages: 623–637
Keywords: ram air turbine (RAT), velocity field, experiment, numerical methods
Abstract
Effect of spacing between the pusher propeller and wing on environmental light aircraft noise
Moshkov, Petr Aleksandrovich and Samokhin, Valerii Fedorovich
Pages: 639–647
Keywords: light aircraft noise, propeller noise, aircraft piston power plant noise
Abstract
Features of simulating the force actions from a damaged engine at ground vibration tests of an airplane
Leonteva, Regina Vladimirovna and Smyslov, Vsevolod Igorevich
Pages: 649–663
Keywords: engine imbalance, simulation, ground vibration tests
Abstract
Journal of Aerospace Engineering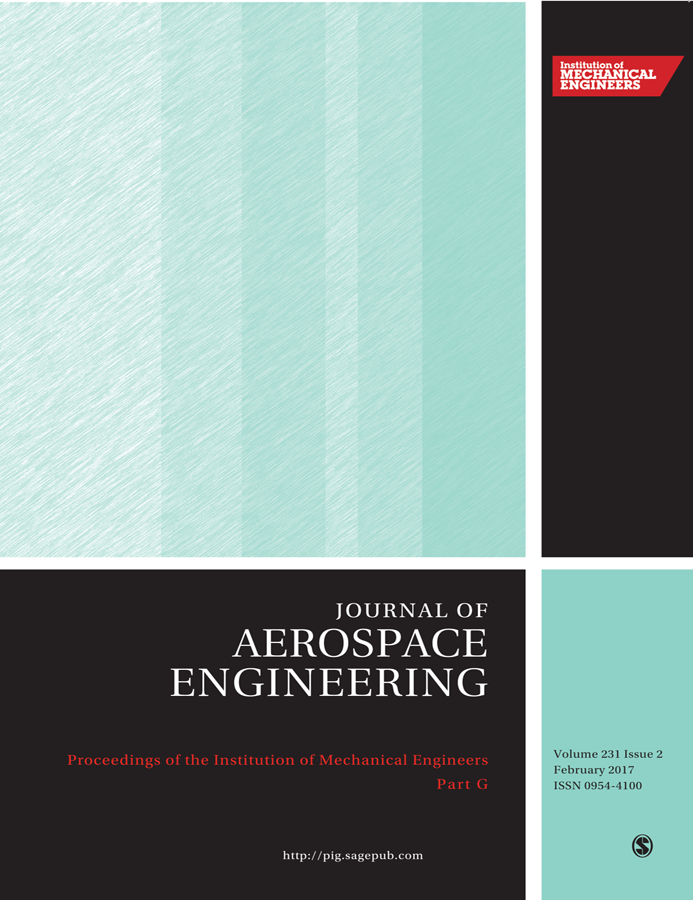 Since last newsletter, two new issues have been released:
Volume 231, Issue N.7 of June 2017 (toc available here)
Volume 231, Issue N.8 of June 2017 (toc available here)​
The toc for the last issue is reported below for your convenience.
Numerical simulation of the airflow over a military aircraft with active intake
Triantafyllou, T and Nikolaidis, T and Diakostefanis, M and Pilidis, P
Pages: 1369–1390
Keywords: Computational fluid dynamics, aerodynamic interface plane, gas turbine performance, aircraft intake system, airflow distortion
Abstract
Novel acquisition of global positioning system signals based on parameter prediction and the chirp z-transform
Xu, Bing and Dou, Lei
Pages: 1391–1401
Keywords: Global positioning system, parameter prediction, chirp z-transform, acquisition, Doppler frequency shift
Abstract
Mechanical response of a panel section with a hexagonally tessellated stiffener grid
Bouazizi, M and Lazghab, T and Soula, M
Pages: 1402–1414
Keywords: Tessellation, cylindrical shell, eigenmodes, optimization, aircraft
Abstract
Modal parameter identification of structure under base excitation using vibration test data
Xia, JN and Song, HW
Pages: 1428–1450
Keywords: Modal parameter identification, vibration test, interface force, response transfer function, base excitation
Abstract
Mems gyroscope/tam-integrated attitude estimation based on moving horizon estimation
Huang, Jingli and Zhao, Guorong and Zhang, Xiangyu
Pages: 1451–1459
Keywords: Attitude estimation, moving horizon estimation, three axis magnetometer, MEMS gyroscope, arrival cost
Abstract
Elliptic jet control with triangular tab
Aravindh Kumar, SM and Rathakrishnan, Ethirajan
Pages: 1460–1477
Keywords: Elliptic jet, axis switching, supersonic core, azimuthal asymmetry, jet spread, triangular tabs
Abstract
Data-driven design paradigm in engineering problems
Liu, Changqing and Chen, Xiaoqian
Pages: 1522–1534
Keywords: Engineering design, uncertainty, data-driven paradigm, decision making
Abstract
Adaptive finite time control for spacecraft attitude maneuver based on second-order terminal sliding mode
Ran, Dechao and Xiao, Bing and Sheng, Tao and Chen, Xiaoqian
Pages: 1415–1427
Keywords: Rigid spacecraft, attitude maneuver, second-order terminal sliding mode, finite time control, fuzzy logical system
Abstract
Robust finite-time line-of-sight angular rate estimation in missile guidance
He, Shaoming and Wang, Wei and Wang, Jiang
Pages: 1550–1559
Keywords: Line-of-sight angular rate estimation, geometric homogeneity, finite-time convergence, sliding mode gain, missile guidance
Abstract
Numerical study of the internal flow field of a dual pulse solid rocket motor including conjugate heat transfer
Li, Ying-kun and Han, Jun-li and Chen, Xiong and Liu, Rui and Xu, Jin-sheng
Pages: 1535–1549
Keywords: Solid rocket motor, dual pulse motor, conjugate heat transfer, computational fluid dynamics
Abstract
Side force over slender body with rings at different location at subsonic speed
Kumar, P and Prasad, JK
Pages: 1478–1491
Keywords: High angle of attack, side force, slender body, asymmetric vortex
Abstract
Rbf neural network-based sliding mode vibration control of a flexible cantilever plate using laser displacement measurement
Qiu, Zhi-Cheng and Zhang, Si-Ma
Pages: 1492–1508
Keywords: Flexible cantilever plate, laser displacement measurement, active vibration control, RBFNN-SMC algorithm, experiments
Abstract
Comparative study of alternative biofuels on aircraft engine performance
Azami, Muhammad Hanafi and Savill, Mark
Pages: 1509–1521
Keywords: Alternative biofuels, engine performances, blended fuels, Algae biofuel, Camelina biofuel, Jatropha biofuel
Abstract
Acta Astronautica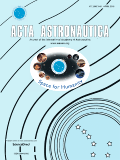 Since newsletter #22, a new volume is in preparation.
Volume 137 for August 2017 (introduced in the last newsletter) is still being compiled and Volume 136 for July 2017 is last one completed.
Volume 138 for September 2017 is being compiled too.
Indeed this publication of the International Academy of Astronautics has a rapid publishing rate.
The toc at the time of this writing for Volume 138 is reported below for your convenience (please remember that is a work in progress).
A new analytical solution of the hyperbolic kepler equation using the adomian decomposition method
Ebaid, Abdelhalim and Rach, Randolph and El-Zahar, Essam
Pages: 1–9
Keywords: Hyperbolic Kepler equation; Adomian decomposition method; Adomian polynomials; Series solution
Abstract
Predictor-corrector entry guidance with waypoint and no-fly zone constraints
Wang, Tao and Zhang, Hongbo and Tang, Guojian
Pages: 10–18
Keywords: Entry; Guidance; Predictor-corrector; Fuzzy controller; No-fly zone; Waypoint
Abstract
Concurrent rendezvous control of underactuated spacecraft
Muralidharan, Vijay and Reza Emami, M.
Pages: 28–42
Keywords: Education; STEM; Computing; Programming; Coding; Peake
Abstract
Astro pi: running your code aboard the international space station
Honess, David and Quinlan, Oliver
Pages: 43–52
Keywords: Education; STEM; Computing; Programming; Coding; Peake
Abstract
Mars colony in situ resource utilization: an integrated architecture and economics model
Shishko, Robert and Fradet, René and Do, Sydney and Saydam, Serkan and Tapia-Cortez, Carlos and Dempster, Andrew G. and Coulton, Jeff
Pages: 53–67
Keywords: Scramjet; Ignition; Laser-induced plasma; Hydrocarbon fuel
Abstract
Absolute navigation for mars final approach using relative measurements of x-ray pulsars and mars orbiter
Wang, Shuo and Cui, Pingyuan and Gao, Ai and Yu, Zhengshi and Cao, Menglong
Pages: 68–78
Keywords: Navigation; X-ray pulsar; Mars final approach phase; Mars orbiter; Optimization
Abstract
Experimental investigation on laser-induced plasma ignition of hydrocarbon fuel in scramjet engine at takeover flight conditions
Li, Xipeng and Liu, Weidong and Pan, Yu and Yang, Leichao and An, Bin
Pages: 79–84
Keywords: Scramjet; Ignition; Laser-induced plasma; Hydrocarbon fuel
Abstract
Inertial frames and breakthrough propulsion physics
Millis, Marc G.
Pages: 85–94
Keywords: Space propulsion; Physics; Inertia; Inertial frame; Mach's principle; Quantum vacuum; EmDrive
Abstract
Extending the coverage of the internet of things with low-cost nanosatellite networks
Almonacid, Vicente and Franck, Laurent
Pages: 95–101
Keywords: Cubesat applications; Internet of things; M2M; Energy-efficiency; Random access; Multiple-access
Abstract
The lunar space tug: a sustainable bridge between low earth orbits and the cislunar habitat
Mammarella, M. and Paissoni, C.A. and Viola, N. and Denaro, A. and Gargioli, E. and Massobrio, F.
Pages: 102–117
Keywords: Cislunar environment; Space transportation system; Space Tug; Electric Propulsion; Deep space habitat
Abstract
---
One of our readers sent us an interesting article of Nature about perovskite. Perovskite Solar Cells are extremely interesting and generally regarded as the next generation solar cells, after the mature and currently available crystalline silicon based ones. The European commission is for example sponsoring (or has funded research) for many projects about perovskite in the H2020 framework (see for example this, this and this).
Perovskite cells have the advantage of a definitely smaller carbon footprint (i.e. require much less energy for production since no high temperatures are necessary for their manufacturing), have significantly smaller costs, can be used as windows, but have a big stability problem.
Some claim that commercial perovskite could arrive on the markets as soon as this year, but the 2018-2020 target is more realistic, and the advances illustrated by the Nature article raise hopes of a rapid commercialization.
Solar Cells do not usually play a big role in our readers' research fields (except of course for satellites and alike), but the new characteristics of the Perovskite Solar Cells (PSCs) could allow this role to expand.
---
The following patents have been selected from the EPO database using the following criteria: "WORD = perovskite AND WORD = tandem AND WORD = 'solar panel' AND PUA12 >= 20160101". In this case, this means all patents whose A1/A2 documents both have been published after January 1, 2016 and contain the keywords aforementioned. Since patents can be filed towards different organizations, sometimes the data available in the EPO database (the version available for free online) is not the most complete. In that case an external link is used.
The keywords tandem is related to solar cells that adsorb from different portions of the light spectrum thanks to their particular manufacturing process to increase efficiency.
---
How to browse the EPO patent list
There are different tools online to browse/search patents, for example google and the wipo. Here we will be using the EPO Patent information services for experts, from this address. It is possible to browse patents based on many parameters, inventor name, applicant/proprietor (usually a company), application date, etc. etc. In the future we will consider patents that have published their A1/A2 documents since the date of the last newsletter.
The definition of A1 and A2 are available here.
Basically when a European patent application is published together with the search report done by the agency, it is known as an A1 publication. When this application is published without the search report, it is an A2 document.
The search report is then published later as an A3 document.
When the patent is granted, it is published as a B document.
---
Job Offers
Please have a look at the vacancies section of the HESPACE website for some interesting job openings in the aerospace industry.
| | |
| --- | --- |
| Coordinator | Participants |