Words From The Editor
Dear Colleague,
Please find here the EUCASS newsletter #22.
The 2017 edition of our Aerospace Thematic Workshops has been successfully concluded (more info below) and we gear up for the main EUCASS congress in Milan in less than 2 months. If you plan to attend ths event, please pay attention to the fact that registration fees increase after 28 May. It is also advisable to reserve your hotel accommodations as early as possible
In this newsletter you find the usual review of recently published journals of interested with our classification and the section patents of interest will be this time dedicated to noise reduction for aircrafts.
JP Taran
This email address is being protected from spambots. You need JavaScript enabled to view it.
P.S.
You can enhance visibility of your own scientific work, increase its readership and bring it faster to the attention of potential readers through this newsletter.

When it's about to come out, do not fail to inform Stella Sauvan at the special email address This email address is being protected from spambots. You need JavaScript enabled to view it. and we'll announce it in our next issue.
---
In this issue
---
ATW 2017
This year the 6th ATW went back to the classical thematic of the previous workshops (2009-2011-2013-2015), focusing on the Fundamentals of Aerodynamic Flow and Combustion Control by Plasmas.
Last year edition was instead focused on Fundamentals of Collisions of Fast Particles with Surfaces .
This edition saw the biggest success ever, with more than 70 participants from 13 different countries.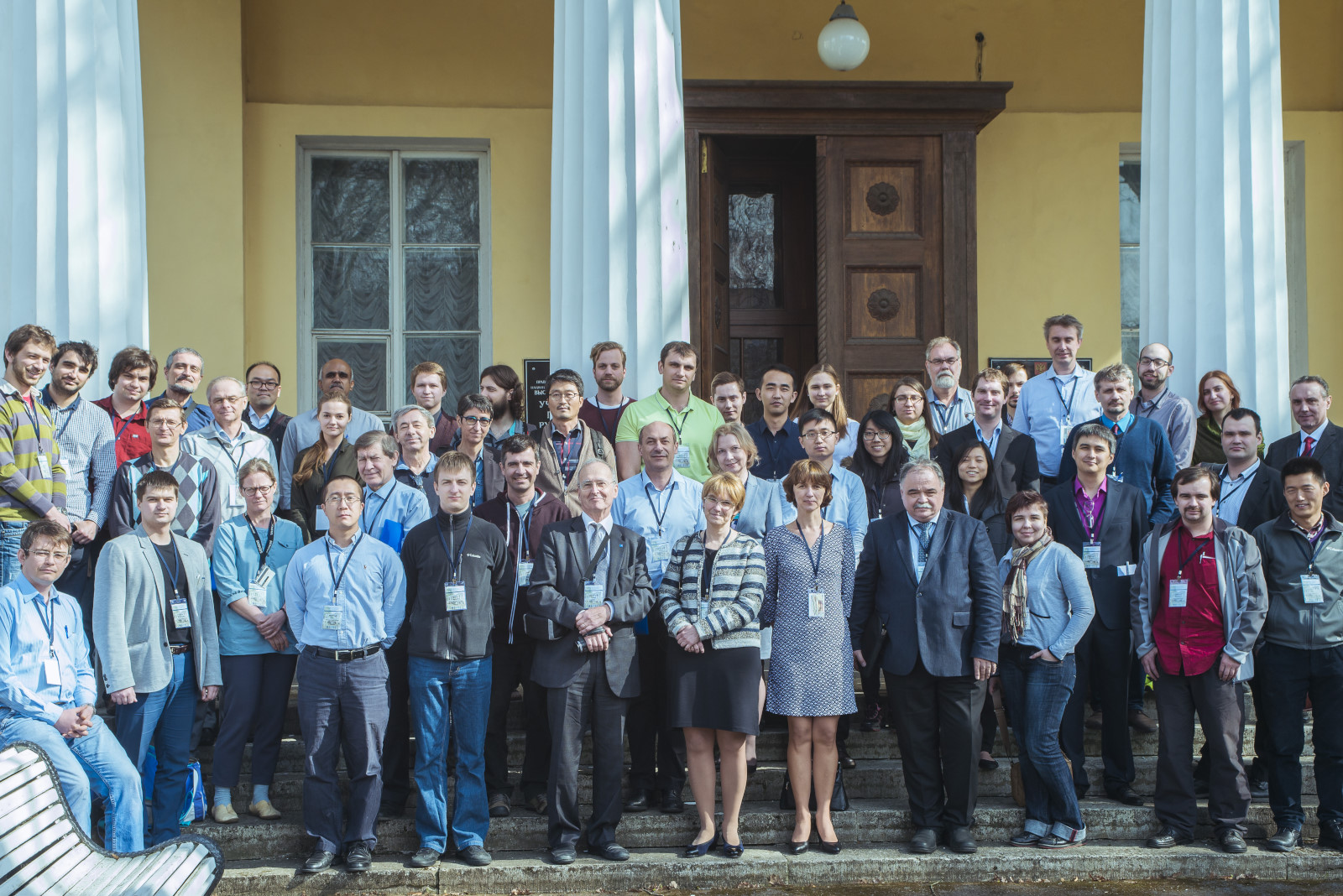 You can find some more details and memorabilia at the original event page here.
Eucass 2017
For the 7th edition of our main congress, registrations and abstracts submissions are open at the organiser website https://eucass.eu/2017.
This conference that will highlight advances in aeronautics and space sciences in five parallel symposia dealing with aspects of:
System Integration
Flight Physics
Flight Dynamics/ GNC and Avionics
Structures and Materials
Propulsion Physics​
---
For your convenience, starting from newsletter #10 we provide for each article the keywords selected by the respective journal editor.
At the same time, our newsletter editor or his helper is classifying the most interesting articles for EUCASS according to our areas of interest.
You'll find below first the EUCASS classification with links to the proper article in the classical article list based on the different journals presented in this newsletter.
Applied Mathematics

Fluid Mechanics

Thermophysics and Aeromechanics

Energy and propulsion, including chemical, electrical and nuclear

GNC & Avionics

Information processing, command and control

Materials

Structures

Systems

Enabling S & T/Numerics

Enabling S & T/Simulation

Enabling S & T/Metrology (conventional & non-intrusive) and instrumentation
---
TsAGI Science Journal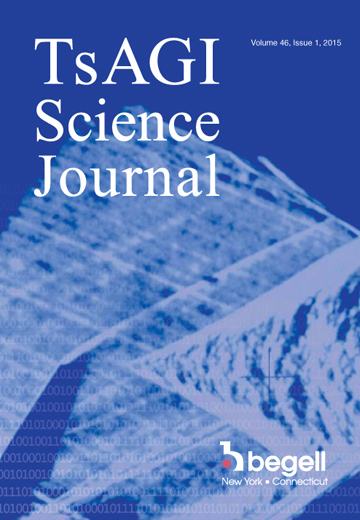 Since Newsletter #21 (see the past issues on our website here) one new volumes has been published in the meanwhile:
Volume 47, Issue N.5 (toc available here)
For your convenience, the toc of this last issues is reported below:
Numerical simulation and experiment in the induction plasmatron of the vat-104 wind tunnel
Vasilevskiy, Eduard Borisovich and Zhestkov, Boris Evgen'evich and Sakharov, Vladimir Igorevich
Pages: 457–474
Keywords: supersonic air plasma flow, numerical simulation, heat flux and pressure distributions over the surface of a spherically blunted cone
Abstract
The matter of choice of aspect ratio for lifting surfaces of micro air vehicles
Kamyshova, T. Yu. and Kornushenko, A. V. and Kudryavtsev, O. V.
Pages: 475–481
Keywords: micro-air vehicle, selection of parameters, optimal aspect ratio, design of lifting surfaces
Abstract
Numerical simulation of a jet flap
Thein, Myo and Teperina, Ludmila Nikolaevna
Pages: 483–494
Keywords: numerical methods, jet flap, screen modeling
Abstract
Approximation of distributions of the volumetric force generated by a plasma actuator
Kuryachii, Alexander Petrovich and Manuilovich, Sergey Viktorovich and Rusyanov, Dmitriy Anatolyevich
Pages: 495–512
Keywords: dielectric barrier discharge, plasma actuator, Navier–Stokes equations, volumetric force, pressure gradient
Abstract
Numerical investigation of the hinge moments of the nose landing gear doors in a passenger aircraft in the process of opening
Pavlenko, Olga Viktorovna and Chuban, Andrei Vitalievich
Pages: 513–523
Keywords: nose landing gear doors, aerodynamic loads, hinge moments, computational fluid dynamics (CFD) methods
Abstract
Experimental and numerical investigations of gas dynamics interaction of heated and cold flows injected through a wall into a supersonic flow
Skvortsov, Vladimir Vladimirovich and Starodubtsev, Mikhail Alexandrovich
Pages: 525–535
Keywords: supersonic flow in a duct, injection of gases to a flow through a wall, computational fluid dynamics (CFD) method, experiment
Abstract
Inertial technology of wind tunnel spin tests
Vyalkov, Andrey Viktorovitch
Pages: 537–552
Keywords: vertical wind tunnel, wind tunnel spin tests, free flight tests, inertial systems, calculation of flight parameters, control law development using wind tunnel models, Kalman filtering
Abstract
Analysis of the contact hold mode at autonomous air refueling
Poedinok, Victor Mikhaylovich
Pages: 553–561
Keywords: autonomous air refueling, hold mode of contact, mathematical
Abstract
Journal of Aerospace Engineering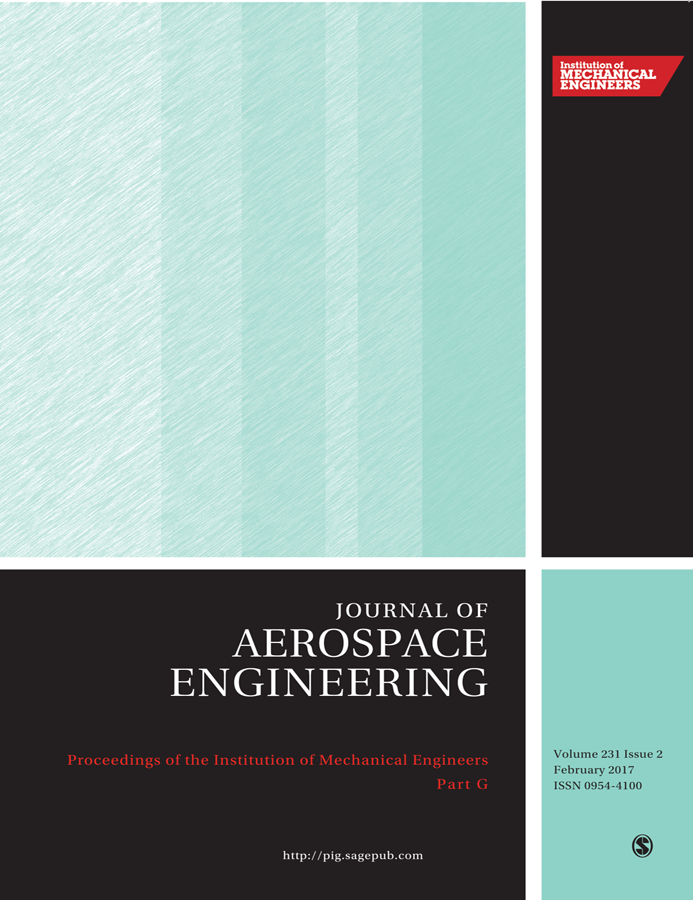 Since last newsletter, four new issues have been released:
The toc for the last issue is reported below for your convenience.
Optimal formation control with limited communication for multi-unmanned aerial vehicle in an obstacle-laden environment
Ai, Xiao Lin and Yu, Jian Qiao and Chen, Yong Bo and Chen, Fang Zheng and Shen, Yuan Chuan
Pages: 979–997
Keywords: Formation control, limited communication, obstacle/collision avoidance, virtual flow field, inverse optimal control
Abstract
Multilevel finite element modeling and coupling vibration analysis of the drum in blade–disk–drum assembly
Chen, Yugang and Zhai, Jingyu and Han, Qingkai
Pages: 998–1011
Keywords: Blade–disk–drum assembly, multilevel modeling, coupling vibration, dominant mode, forced vibration
Abstract
Workspace analysis and verification of cable-driven parallel mechanism for wind tunnel test
Wang, Xiaoguang and Hu, Yunbo and Lin, Qi
Pages: 1012–1021
Keywords: Cable-driven parallel mechanism, wind tunnel test, geometrical interference, hyperplane, workspace analysis
Abstract
Dynamics and control of a 6-dof space robot with flexible panels
Zhang-Wei, Yu and Xiao-Feng, Liu and Hai-Quan, Li and Guo-Ping, Cai
Pages: 1022–1034
Keywords: Space robot, dynamics modeling, active control, Jourdain's velocity variation principle, computed torque control method
Abstract
Distributed reactive collision avoidance for a swarm of quadrotors
Leonard, J and Savvaris, A and Tsourdos, A
Pages: 1035–1055
Keywords: Unmanned aerial vehicle, conflict detection and resolution, distributed reactive collision avoidance
Abstract
Equilibrium characteristics and stability analysis of helicopter slung-load system
Cao, Yihua and Wang, Zhaorui
Pages: 1056–1064
Keywords: Helicopter, rigid-body slung-load, trim, stability, mode
Abstract
Controllability of a square solar sail with movable membrane tips
Fu, Bo and Gede, Gilbert and Eke, Fidelis O
Pages: 1065–1075
Keywords: Solar sails, attitude control, controllability, attitude dynamics, sailcraft reorientation
Abstract
Adaptive robust attitude control and active vibration suppression of flexible spacecraft
Yu, Z and Guo, Y and Wang, L and Wu, L
Pages: 1076–1087
Keywords: Adaptive robust control, positive position feedback, path planning, vibration suppression, flexible spacecraft
Abstract
Multi-field coupling dynamic characteristics based on kriging interpolation method
Yang, Wenjun and Yuan, Huiqun and Zhao, Tianyu
Pages: 1088–1099
Keywords: Compressor rotor system, cyclic symmetric method, Kriging model, multi-field coupling analysis, dynamic characteristics
Abstract
Results of the gnss receiver experiment ocam-g on ariane-5 flight va 219
Hauschild, André and Markgraf, Markus and Montenbruck, Oliver and Pfeuffer, Horst and Dawidowicz, Elie and Rmili, Badr and Conde Reis, Alain
Pages: 1100–1114
Keywords: GNSS, Ariane-5, ATV-5, OCAM-G, launcher trajectory estimation
Abstract
Efficient trajectory parameterization for environmental optimization of departure flight paths using a genetic algorithm
Hartjes, S and Visser, HG
Pages: 1115–1123
Keywords: Trajectory optimization, noise abatement, emissions, parametrization, genetic algorithm
Abstract
Efficient stall compliance prediction method for trimmed very light aircraft with high-lift devices
Van Nguyen, Nhu and Lee, Daeyeon and Tyan, Maxim and Lee, Jae-Woo and Kim, Sangho
Pages: 1124–1137
Keywords: Stall prediction, high-lift configuration, very light aircraft, certification, wind tunnel test data
Abstract
Neural network based dynamic model and gust identification system for the jetstream g-nfla
Antonakis, Aristeidis and Lone, Mudassir and Cooke, Alastair
Pages: 1138–1153
Keywords: Artificial neural networks, flight testing, system identification, gust identification, hybrid identification
Abstract
Shock environment design for space equipment testing
Morais, OMF and Vasques, CMA
Pages: 1154–1167
Keywords: Shock response spectrum, shock testing, impact, space equipment, in-plane pendulum
Abstract
Thermophysics and Aeromechanics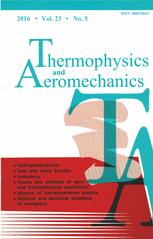 Since newsletter #21, one new issue has been released:
Volume 23, Issue N.6 of November 2016 (toc available here)
The toc for the this last issue is reported below for your convenience.
Experimental study of aerodynamic characteristics of a reentry vehicle on a setup with free oscillations at supersonic velocities
Adamov, N. P. and Kharitonov, A. M. and Chasovnikov, E. A. and Dyad'kin, A. A. and Krylov, A. N. and Aleksandrov, E. N.
Pages: 791–800
Keywords: reentry vehicle, free oscillations, pitch damping coefficient, aerodynamic characteristics
Abstract
Response of axisymmetric separated flow to its spatially localized perturbation
Dovgal, A. V. and Zanin, B. Yu. and Sorokin, A. M.
Pages: 801–807
Keywords: axisymmetric body, flow separation, control of separation, hydrodynamic stability
Abstract
Numerical simulation of the evolution of unstable disturbances of various modes and initial stages of the laminar-turbulent transition in the boundary layer at the freestream mach number М = 6
Khotyanovsky, D. V. and Kudryavtsev, A. N.
Pages: 809–818
Keywords: direct numerical simulation, laminar-turbulent transition, supersonic boundary layer
Abstract
Methods of measuring velocity fields in the problem with a channel with periodic hills
Kozinkin, L. A. and Karchevskiy, M. N.
Pages: 819–829
Keywords: Particle Image Velocimetry (PIV), Particle Tracking Velocimetry (PTV), Pyramid Correlation, velocity field, pulsations
Abstract
Panoramic diagnostics of shear stresses on the channel wall with a step using the liquid crystals
Zharkova, G. M. and Kovrizhina, V. N. and Petrov, A. P. and Pod'yachev, S. P.
Pages: 831–838
Keywords: shear stress, liquid crystals, visualization, measurements, subsonic flow
Abstract
Flow structure due to hexagonal cavities and bumps on a plate surface
Butt, U. and Egbers, C.
Pages: 839–847
Keywords: flow visualization, oil film interferometry, flow control
Abstract
Expansion of capabilities of the short-duration wind tunnel with an opposing pressure multiplier
Shumskii, V. V. and Yaroslavtsev, M. I.
Pages: 849–856
Keywords: short-duration wind tunnel, settling chamber, test gas, stabilization of parameters, pressure multiplier, driver air
Abstract
Heat exchange at laminar flow in rectangular channels
Valueva, E. P. and Purdin, M. S.
Pages: 857–867
Keywords: heat exchange, pulsatile laminar flow, rectangular channel, numerical modeling
Abstract
Peculiarities of evolution of shock waves generated by boiling coolant
Alekseev, M. V. and Vozhakov, I. S. and Lezhnin, S. I. and Pribaturin, N. A.
Pages: 869–878
Keywords: explosive boiling, shock wave, impingement, slip flow
Abstract
Regularities of interaction between drops of uhv coolants and surfaces of traps of frameless heat removal systems in space
Koroteev, A. A. and Bondareva, N. V. and Nagel, Yu. A. and Filatov, N. I. and Baidenko, I. V.
Pages: 879–885
Keywords: drop refrigerator-emitter, droplet stream generator, trapping device, ultra-high vacuum, coolant, drop sheath
Abstract
Evolution of temperature of a droplet of liquid composite fuel interacting with heated airflow
Glushkov, D. O. and Zakharevich, A. V. and Strizhak, P. A. and Syrodoy, S. V.
Pages: 887–898
Keywords: composite liquid fuel, coal-water fuel, droplet, airflow, heat transfer, ignition
Abstract
Temporal structure of gas temperature fluctuations and ignition of fine particles
Derevich, I. V. and Galdina, D. D.
Pages: 899–912
Keywords: turbulence, thermal explosion, ignition, probability density function, thermal inertia of particles, temperature fluctuation, Semenov's diagram
Abstract
Density changes of bismuth and alkaline metals at the transition to the liquid state
Stankus, S. V. and Abdullaev, R. N. and Khairulin, R. A.
Pages: 913–918
Keywords: density, bismuth, sodium, potassium, rubidium, melting, gamma-ray attenuation technique
Abstract
Effect of plasma spraying regimes on structure and properties of ni3al coatings
Kornienko, E. E. and Mul', D. O. and Rubtsova, O. A. and Vaschenko, S. P. and Kuzmin, V. I. and Gulyaev, I. P. and Sergachev, D. V.
Pages: 919–927
Keywords: plasmatorch, plasma deposition, Ni3Al, wear resistance
Abstract
Numerical models of a far turbulent wake of an elongated body of revolution
Demenkov, A. G. and Druzhinin, O. A. and Chernykh, G. G.
Pages: 929–932
Keywords: turbulent wake of an elongated body of revolution, mathematical modeling, DNS, semi-empirical models of turbulence, self-similar decay
Abstract
On the influence of a single roughness element on the flow in supersonic boundary layer on a blunted cone
Kirilovskiy, S. V. and Poplavskaya, T. V.
Pages: 933–936
Keywords: numerical modeling, supersonic flows, hydrodynamic stability
Abstract
Gas flow from a supersonic nozzle with screen into vacuum
Yarygin, V. N. and Prikhodko, V. G. and Skovorodko, P. А. and Yarygin, I. V.
Pages: 937–940
Keywords: supersonic nozzle, flow into vacuum, backflow, gas-dynamic protective devices
Abstract
On hydrodynamic interpretation of folding of an α-helical protein
Andryushchenko, V. A. and Chekmarev, S. F.
Pages: 941–944
Keywords: α-helical protein, folding, folding flux, turbulence
Abstract
Combustion and Explosion Journal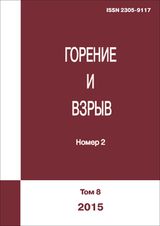 Since newsletter #21, one new volume of the Combustion and Explosion Journal has been published:
Volume 10, Issue N.1 (toc available here)
The toc for this last issue is presented below for your convenience
Table of Contents (Volume 10 Issue N.1)
Direct numerical simulation of turbulent combustion of gases in two-dimensional approximation
V. Ya. Basevich, A. A. Belyaev, S. M. Frolov, and B. Basara
Pages: 4-10
Keywords: direct numerical simulation; turbulent combustion; hydrogen
Abstract
Thermokinetic oscillations at oxidation and combustion of methane
A. A. Belyaev, A. V. Arutyunov, V. S. Arutyunov, B. V. Lidskii, A. V. Nikitin, and V. S. Posvyanskii
Pages: 11-15
Keywords: thermokinetic oscillations; oxidation and combustion of methane; computer simulation
Abstract
Detailed kinetic mechanism of methane oxidation and combustion in the presence of sulphur dioxide
V. Ya. Basevich, A. A. Belyaev, V. A. Smetanyuk, S. M. Frolov, and F. S. Frolov
Pages: 16-20
Keywords: methane; sulphur dioxide; detailed kinetic mechanism; volumetric reaction; flame propagation;
Abstract
Kinetics of pyrolysis and partial oxidation of hydrogen sulfide
V. A. Savelieva, N. S. Titova, and A. M. Starik
Pages: 21-27
Keywords: hydrogen production; hydrogen sulfide; pyrolysis; partial oxidation; kinetic mechanism; modeling
Abstract
Matrix conversion of methane into syngas with low content of nitrogen
A. V. Nikitin, V. I. Savchenko, I. V. Sedov, K. A. Timofeev, V. M. Smelev, and V. S. Arutyunov
Pages: 28-33
Keywords: natural gas; methane; syngas; matrix burner; partial oxidation
Abstract
On acetylene synthesis by partial oxidation of simple hydrocarbons
K. Ya. Troshin and A. A. Borisov
Pages: 34-38
Keywords: partial oxidation; hydrocarbons; acetylene; kinetic modeling; "freezing"
Abstract
Structure of stratified turbulent flow in a swirling jet-flame
D. K. Sharaborin, V. M. Dulin, and D. M. Markovich
Pages: 39-44
Keywords: swirling jet; turbulent swirling flame; laser diagnostics; spontaneous Raman scattering
Abstract
Radiation properties of a matrix with the ceramic coating
V. M. Shmelev
Pages: 45-48
Keywords: burning devices; matrix; radiation
Abstract
Swirling combustion above water surface
G. N. Mokhin
Pages: 49-52
Keywords: swirling combustion; laminar flame; critical conditions; low-emission burning
Abstract
Determination of the values of -fH0298.15 of (Al)n clusters with n = 3-10
G. A. Poskrebyshev, A. N. Ermakov, and V. B. Storozhev
Pages: 53-58
Keywords: aluminum; cluster; isodesmic reaction; enthalpy
Abstract
Influence of carbon nanotubes on the combustion laws of low-calorie propellant
A. P. Denisyuk, L. A. Demidova, V. A. Sizov, and A. O. Merkushkin
Pages: 59-63
Keywords: double-base propellant; combustion catalysts; combustion leading zone; electron microscope; X-ray
Abstract
Onset of convective burning in the pressed charges of 5/7 pyroxylin propellant grains
V. E. Khrapovskii and A. A. Sulimov
Pages: 64-68
Keywords: propellant; pressure; burning; convective burning; constant-volume bomb; igniter; polyvinyl butyral
Abstract
Combustion of nanothermites at subatmospheric pressure
V. I. Kolesov and D. I. Patrikeev
Pages: 69-72
Keywords: nanothermite; burning rate
Abstract
Behavior of furazano[3,4-e]tetrazine-4,6-di-n-oxide crystals during long-term storage.
Density as an indicator of thermal stability
Pages: N. V. Chukanov, P. I. Kalmykov, G. V. Shilov, A. V. Shastin, V. V. Nedelko,
Keywords: high-energy compounds; stability; furazano[3,4-e]tetrazine-4,6-di-N-oxide; kinetics; IR-spectroscopy;
Abstract
Association between the defect structure of mechanically activated MoO3 and the chemical activity
of MICs Al/MoO3
Pages: M. V. Sivak, A. N. Streletskii, I. V. Kolbanev, and E. N. Degtyarev
Keywords: mechanical activation; ball milling; МоО3 ; metastable intermolecular composites (MICs); defect
Abstract
Pseudoideal detonation mode in the compositions on the basis of ammonium perchlorate with nanoaluminum
A. A. Shevchenko, V. G. Kirilenko, M. A. Brazhnikov, and A. Yu. Dolgoborodov
Pages: 84-88
Keywords: detonation velocity; ammonium perchlorate; nanoaluminum; mechanoactivation
Abstract
Method of estimation of sensitivity indicators for solid high explosives to impact.
II. Mixtures of type HE-HE
Pages: A. V. Dubovik
Keywords: mixed high explosives; explosion; critical conditions of explosion
Abstract
Foreign investigations of new high-density reactive materials for different advanced munitions
N. A. Imkhovik, A. V. Svidinsky, A. S. Smirnov, and V. B. Yashin
Pages: 93-101
Keywords: energetic materials; high density reactive materials; mechanochemical reactions; high velocity impact;
Abstract
Application perturbation theory for calculation of the thermodynamic properties of metals
Yu. A. Bogdanova, S. A. Gubin, I. V. Maklashova, A. V. Kudinov, and I. N. Melnikov
Pages: 102-108
Keywords: perturbation theory; intermolecular interaction potential Morse; thermodynamic parameters of state;
Abstract
Acta Astronautica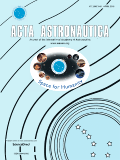 Since newsletter #21, a few volumes have been published.
Currently Volume 137 for August 2017 is being compiled and Volume 136 for July 2017 is completed. Indeed this publication of the International Academy of Astronautics has a rapid publishing rate and it is not feasible to cover all Volumes in our newsletter.
The toc at the time of this writing for Volume 137 is reported below for your convenience (please remember that is a work in progress).
Investigation of transient ignition process in a cavity based scramjet combustor using combined ethylene injectors
Liu, Xiao and Cai, Zun and Tong, Yiheng and Zheng, Hongtao
Pages: 1–7
Keywords:
Abstract
Discharge reliability in ablative pulsed plasma thrusters
Wu, Zhiwen and Sun, Guorui and Yuan, Shiyue and Huang, Tiankun and Liu, Xiangyang and Xie, Kan and Wang, Ningfei
Pages: 8–14
Keywords: Discharge reliability; Ablative pulsed plasma thruster; Ignition characteristics
Abstract
Robustness analysis method for orbit control
Zhang, Jingrui and Yang, Keying and Qi, Rui and Zhao, Shuge and Li, Yanyan
Pages: 15–24
Keywords: Orbit control strategy; Random error; Robustness analysis
Abstract
Green hypergolic combination: diethylenetriamine-based fuel and hydrogen peroxide
Kang, Hongjae and Kwon, Sejin
Pages: 25–30
Keywords: Hypergolic ignition; Diethylenetriamine; Hydrogen peroxide; Propulsion; Thruster
Abstract
Space-based pseudo-fixed latitude observation mode based on the characteristics of geosynchronous orbit belt
Hu, Yun-peng and Chen, Lei and Huang, Jian-yu
Pages: 31–37
Keywords: Space-based observation; GEO objects; Pseudo-fixed latitude observation mode
Abstract
Rosetta lander - philae: operations on comet 67p/churyumov-gerasimenko, analysis of wake-up activities and final state
Ulamec, Stephan and O'Rourke, Laurence and Biele, Jens and Grieger, Björn and Andrés, Rafael and Lodiot, Sylvain and Muñoz, Pablo and Charpentier, Antoine and Mottola, Stefano and Knollenberg, Jörg and et al.
Pages: 38–43
Keywords:
Abstract
Flow field characteristics analysis and combustion modes classification for a strut/cavity dual-mode combustor
Zhang, Chenlin and Chang, Juntao and Zhang, Yuanshi and Wang, Youyin and Bao, Wen
Pages: 44–51
Keywords: Combustion mode; Strut/cavity combustor; Dual-mode combustor; Flow field structure
Abstract
The influence of cavity parameters on the combustion oscillation in a single-side expansion scramjet combustor
Ouyang, Hao and Liu, Weidong and Sun, Mingbo
Pages: 52–59
Keywords: Ethylene; Cavity; Combustion oscillation; Premixing; Scramjet
Abstract
Reentry trajectory optimization with waypoint and no-fly zone constraints using multiphase convex programming
Zhao, Dang-Jun and Song, Zheng-Yu
Pages: 60–69
Keywords: Multiphase convex programming; Reentry trajectory optimization; No-fly zone constraint; Waypoint constraint
Abstract
Crack cause analysis of a graphite nozzle throat insert
Sun, Lin and Bao, Futing and Zhao, Yu and Hou, Lian and Hui, Weihua and Zhang, Ning and Shi, Wei
Pages: 70–77
Keywords: Firing test; Anomalies; Fast and efficient simulation procedure; Failure cause analysis; Gap size design
Abstract
Transfer orbits to l 4 with a solar sail in the earth-sun system
Farrés, Ariadna
Pages: 78–90
Keywords: Solar sails; Invariant manifolds; Artificial equilibria; Astrodynamics
Abstract
Teófilo tabanera, father of the argentine space program
de León, Pablo and Tabanera, Marcela and Tabanera, Marisol
Pages: 91–97
Keywords:
Abstract
Solving fuel-optimal low-thrust orbital transfers with bang-bang control using a novel continuation technique
Zhu, Zhengfan and Gan, Qingbo and Yang, Xin and Gao, Yang
Pages: 98–113
Keywords: Primer vector theory; Continuation; Low-thrust; Trajectory optimization; Bang-bang control; Nonlinear optimization
Abstract
Reconfigurable phased antenna array for extending cubesat operations to ka-band: design and feasibility
Buttazzoni, G. and Comisso, M. and Cuttin, A. and Fragiacomo, M. and Vescovo, R. and Vincenti Gatti, R.
Pages: 114–121
Keywords: CubeSat; Ka-band; Phased-array; Reconfigurability
Abstract
Effect of 21-day head down bed rest on urine proteins related to endothelium: correlations with changes in carbohydrate metabolism
Kashirina, D. and Pastushkova, L. and Custaud, M.A. and Dobrokhotov, I. and Brzhozovsky, A. and Navasiolava, N. and Nosovsky, A. and Kononikhin, A. and Nikolaev, E. and Larina, I.
Pages: 122–127
Keywords: Urine chromatography-mass spectrometry+; Physical inactivity; Head-down bed rest; Cardiovascular system; Endothelial dysfunction
Abstract
Time-optimal spacecraft attitude maneuver path planning under boundary and pointing constraints
Wu, Changqing and Xu, Rui and Zhu, Shengying and Cui, Pingyuan
Pages: 128–137
Keywords: Attitude maneuver; Path planning; Time-optimal; Metaheuristic; DE
Abstract
Examining personal values in extreme environment contexts: revisiting the question of generalizability
Smith, N. and Sandal, G.M. and Leon, G.R. and Kjærgaard, A.
Pages: 138–144
Keywords: Personal values; Extreme environments; Human spaceflight; Generalizability; Analog
Abstract
Numerical study on dynamic characteristics for sharp opening procedure of boundary-layer suction slot
He, Yubao and Yin, Hang and Huang, Hongyan and Yu, Daren
Pages: 145–156
Keywords: Shock train; Boundary layer; Inlet unstart; Suction slot; Hypersonic inlet
Abstract
Experimental and numerical investigation on the ignition and combustion stability in solid fuel ramjet with swirling flow
Musa, Omer and Xiong, Chen and Changsheng, Zhou
Pages: 157–167
Keywords: Regression rate; Swirl flow; Solid fuel ramjet; Combustion; Ignition
Abstract
The small mars system
Fantino, E. and Grassi, M. and Pasolini, P. and Causa, F. and Molfese, C. and Aurigemma, R. and Cimminiello, N. and de la Torre, D. and Dell'Aversana, P. and Esposito, F. and et al.
Pages: 168–181
Keywords: Space missions; Planetary exploration; Mars landers
Abstract
Designing the design at jpl's innovation foundary
Balint, Tibor S. and Freeman, Anthony
Pages: 182–191
Keywords:
Abstract
Drilling, sampling, and sample-handling system for china's asteroid exploration mission
Zhang, Tao and Zhang, Wenming and Wang, Kang and Gao, Sheng and Hou, Liang and Ji, Jianghui and Ding, Xilun
Pages: 192–204
Keywords: Asteroid exploration; Drilling sampler; Sample-handling; Apophis; Extraterrestrial drilling
Abstract
Characterization and compensation of thermo-elastic instability of swarm optical bench on micro advanced stellar compass attitude observations
Herceg, M. and Jørgensen, P.S. and Jørgensen, J.L.
Pages: 205–213
Keywords: Spacecraft attitude; Star tracker; Optical bench
Abstract
Entrainment characteristics of cavity shear layers in supersonic flows
Wang, Hongbo and Li, Peibo and Sun, Mingbo and Wei, Jun
Pages: 214–221
Keywords: Scramjet; Large eddy simulation; Shear layer; Growth rate
Abstract
Dynamic load synthesis for shock numerical simulation in space structure design
Monti, Riccardo and Gasbarri, Paolo
Pages: 222–231
Keywords:
Abstract
Intelligent landing strategy for the small bodies: from passive bounce to active trajectory control
Cui, Pingyuan and Liu, Yanjie and Yu, Zhengshi and Zhu, Shengying and Shao, Wei
Pages: 232–242
Keywords: Intelligent landing; Small body; Active trajectory control; Convex optimization; Hopping exploration
Abstract
Swarm satellite mission scheduling & planning using hybrid dynamic mutation genetic algorithm
Zheng, Zixuan and Guo, Jian and Gill, Eberhard
Pages: 243–253
Keywords: On-board autonomy; Mission scheduling; Genetic Algorithm; Hybrid Dynamic Mutation
Abstract
Hybrid sgp4 orbit propagator
San-Juan, Juan Félix and Pérez, Iván and San-Martín, Montserrat and Vergara, Eliseo P.
Pages: 254–260
Keywords: Artificial satellite theory; Orbit propagator; Hybrid propagation methodology; SGP4; TLE; SSA
Abstract
Singularity and steering logic for control moment gyros on flexible space structures
Hu, Quan and Guo, Chuandong and Zhang, Jun
Pages: 261–273
Keywords: Control moment gyros; Singularity; Steering logic; Gyroelastic body; Vibration control
Abstract
High velocity penetrators used a potential means for attaining core sample for airless solar system objects
Winglee, R.M. and Truitt, C. and Shibata, R.
Pages: 274–286
Keywords: Penetrator; Sample return; Subsurface sample; Asteroids
Abstract
Robust trajectory tracking control of a dual-arm space robot actuated by control moment gyroscopes
Jia, Yinghong and Misra, Arun K.
Pages: 287–301
Keywords: Space robot; Tracking control; Control moment gyroscopes; Motion constraint; Parameter uncertainty
Abstract
Relative position coordinated control for spacecraft formation flying with communication delays
Ran, Dechao and Chen, Xiaoqian and Misra, Arun K. and Xiao, Bing
Pages: 302–311
Keywords: Spacecraft formation flying; Communication delays; Coordinated control; Backstepping control; Finite-time control
Abstract
Shared control on lunar spacecraft teleoperation rendezvous operations with large time delay
Ya-kun, Zhang and Hai-yang, Li and Rui-xue, Huang and Jiang-hui, Liu
Pages: 312–319
Keywords: Teleoperation rendezvous and docking; Shared control; Time delay; Simulation experiment
Abstract
Multiphysics elastodynamic finite element analysis of space debris deorbit stability and efficiency by electrodynamic tethers
Li, Gangqiang and Zhu, Zheng H. and Ruel, Stephane and Meguid, S.A.
Pages: 320–333
Keywords: Multiphysics; Finite element method; Electrodynamic tether; Orbital motion limited; Space debris; Deorbit; Stability
Abstract
An online planetary exploration tool: "country movers"
Gede, Mátyás and Hargitai, Henrik
Pages:
Keywords: Planetary science; Webcartography; Virtual globes; Edutainment; EPO; Planetary cartography
Abstract
---
A few of our ONERA readers are pointing out the last number (Issue N. 12, December 2016) of their AerospaceLab Journal. This is an electronic open access journal where the editorial board aims to keep an high publication standard. This number is focused on Testing in Aerospace Research.
AerospaceLab Journal

Testing in Aerospace Research: Introduction
Stephane Andrieux
Abstract
Full Article
Inverse Problems and Experiments: a Fruitful Symbiosis
Stephane Andrieux
Abstract
Full Article
On Recent Advances in Microstructural Characterization and In-Situ Testing Techniques to Study Material Behavior
Esteban Busso, Denis Boivin and David Leveque
Abstract
Full Article
Combined Experimental and Modeling Approaches for Strength Analysis of 3D Woven Composites: From Elementary Coupons to Complex Aeronautical Structures
Antoine Hurmane, Anne Mavel, Pascal Paulmier and Frederic Laurin
Abstract
Full Article
Complex Thermo-Mechanical Approaches to Study the Behavior of High-Temperature Alloys
Vincent Bonnand and Didier Pacou
Abstract
Full Article
Aircraft Ground Vibration Testing at ONERA
Stephane Giclais, Pascal Lubrina and Cyrille Stephan
Abstract
Full Article
Testing in Aerodynamics Research at onera: the Example of the Transonic Buffet
L. Jacquin, V. Brion, P. Molton, D. Sipp, J. Dandois, S. Deck, F. Sartor, E. Coustols and D. Caruana
Abstract
Full Article
Planar Particle Image Velocimetry for Aerospace Research at ONERA
Benjamin Leclaire, Christophe Brossard, Romain Courtier, Frederic David, Samuel Davoust, Anne Gilliot, Laurent Jacquin, Jean-Marc Jourdan, Oliver Leon, Sylvain Masseboeuf, Sylvain Mouton, Jean-Claude Monnier, Estelle Piot, Arnaud Ristori, Delphine Sebbane and Frank Simon
Abstract
Full Article
Doppler LIDAR Developments for Aeronautics
Claudine Besson, Agnes Dolfi-Bouteyre, Guillaume Canat, Nicolas Cezard, Beatrice Augere, Anne Durecu, Laurent Lombard, Matthieu Valla and Alexandre Hallermeyer
Abstract
Full Article
Experimental Fluid Mechanics goes 3D: New Numerical Methods for Quantitative Instantaneous 3D Imagery of Fluids
Guy Le Besnerais, Frederic Champagnat, Philippe Cornic, Aurelien Plyer, Benjamin Leclaire, Adam Cheminet, Cedric Illoul, Gilles Losfeld, Yves Le Sant, David Donjat, Francois Nicolas and Francis Micheli
Abstract
Full Article
Ro-Vibrational Spectroscopy in Hybrid fs/ps-CARS for N2 Thermometry
Malik Nafa, Michael Scherman, Alexandre Bresson, Antoine Godard, Brigitte Attal-Tretout and Pierre Joubert
Abstract
Full Article
Gravitation and Geodesy with Inertial Sensors, from Ground to Space
Pierre Touboul, Selig, Gilles Metris, Olivier Le Traon, Alexandre Bresson, Nassim Zahzam, Bruno Christophe and Manuel Rodrigues
Abstract
Full Article
Radiation Testing of Electronics Systems: How Can Simulation Tools Help in the Definition and Optimization of Test Plans in Labs?
Sophie Duzellier, Jean-Pierre David, Christophe Inguimbert, Thierry Nuns, Guillaume Hubert and Laurent Artola
Abstract
Full Article
Dealing with Complexity through Advanced Control Techniques
Philippe Bidaud, Laurent Burlion, Henry De Plinval, Thomas Loquen, Julien Marzat and
Abstract
Full Article
Surrogate Models for Aircraft Flight Control: Some Off-Line and Embedded Applications
Georges Hardier, Jean-Marc Biannic, Clement Roos, Cedric Seren and Laurent Verdier
Abstract
Full Article
Component-Based Simulation for Real-Time Experiments of Advanced Aerospace Systems
Bruno Herisse, Gyslain Hervieux, Karim Dahia, Jean-Michel Allard and Jean-Christophe Sarrazin
Abstract
Full Article
---
Patents of Interest
The following patents have been selected from the EPO database using the following criteria: "WORD = noise AND WORD = reduction AND WORD = aircraft AND PUA12 >= 20160101". In this case, this means all patents whose A1/A2 documents both have been published after January 1, 2016 and contain the keywords aforementioned. Since patents can be filed towards different organizations, sometimes the data available in the EPO database (the version available for free online) is not the most complete. In that case an external link is used.
---
How to browse the EPO patent list
There are different tools online to browse/search patents, for example google and the wipo. Here we will be using the EPO Patent information services for experts, from this address. It is possible to browse patents based on many parameters, inventor name, applicant/proprietor (usually a company), application date, etc. etc. In the future we will consider patents that have published their A1/A2 documents since the date of the last newsletter.
The definition of A1 and A2 are available here.
Basically when a European patent application is published together with the search report done by the agency, it is known as an A1 publication. When this application is published without the search report, it is an A2 document.
The search report is then published later as an A3 document.
When the patent is granted, it is published as a B document.